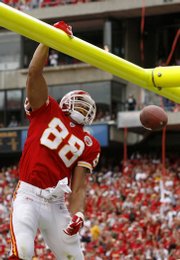 Kansas City, Mo. — Was Tony Gonzalez destined to be a first-round bust, just another one-year college wonder who washes out when he gets to the NFL?
When he dropped 17 passes his second season after being just a part-time starter in his first, some people, including a very frightened Tony Gonzalez, began to wonder.
Fear of failure, perhaps as much as pride and talent, helped drive the man who now has caught more touchdown passes than any other tight end in NFL history.
"I wasn't worried about making the team when I first got here because I was a first-round draft choice," said Kansas City's 6-foot-5, eight-time Pro Bowler.
"But those first couple of years were very humbling. I kind of think it had to happen for a reason. It made me more hungry than ever. I was flat-out embarrassed and felt like I was becoming a bust."
He'll never forget when he read at the end of his second season that a local sportswriter had graded him D-minus. Quick and tall, powerful and intelligent, the football-basketball star had never gotten a D in school, let alone in athletics.
"It scared me, scared me to death," he said. "That's kind of my motivator, even now."
After catching his 63rd and 64th TD passes Sunday in Kansas City's 27-20 victory over Cincinnati, Gonzalez has proven that he's no D-minus tight end.
His first touchdown, on a three-yard toss from Damon Huard, scooted him past Shannon Sharpe for the most touchdown catches by a tight end.
That was followed by a 26-yard scoring strike in the fourth quarter.
With 9,150 yards receiving, Gonzalez trails Sharpe's tight end record by 910. Gonzalez has totaled 100 or more yards in receptions in 20 games, four behind Kellen Winslow's tight end record. He needs 56 catches to match Sharpe's record of 815.
"Nobody works any harder than Tony," said linebacker Chiefs Donnie Edwards, one of Gonzalez' closest friends. "I felt relieved for Tony when he got (the record catch) because I think he was worried that it was going to start to become his whole focus, and he didn't want that."
Growing up in Huntington Beach, Calif., basketball was by far Gonzalez's first love. He played the sport at Cal even though he attended on a football scholarship. His first dream was an NBA career.
But he wasn't tall enough to be a power forward in the NBA.
"When I was in high school, I never even thought about going to college and playing football," he said. "Then when I got to college, I wasn't the All-American or anything like that. I had one good season and left school early."
Now he's caught more touchdown passes than any of the other great athletes who have played tight end in the NFL.
"I like to consider myself somewhat of a student of the position. I've watched tape of Kellen Winslow and dissected his game," he said. "Watching Shannon Sharpe, watching Ben Coates, watching Mike Ditka. I met John Mackey and he gave me some tips. There have been so many great guys at that position. I'm just happy to be mentioned among them now.
"It's surreal in a way. I'm very, very happy that I've been able to achieve something like this."
Huard was proud to be on the throwing end of the record catch.
"It's a great honor for him," Huard said. "He truly is the best tight end to have ever played this game. He's just such a great competitor. What makes him so special is his work ethic and his preparation. He practices like it's a game."
Fear will do that to a man.
Copyright 2018 The Associated Press. All rights reserved. This material may not be published, broadcast, rewritten or redistributed. We strive to uphold our values for every story published.