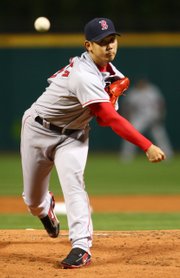 Cleveland — The $103 million man has been almost worthless for Boston in the playoffs.
Daisuke Matsuzaka failed for the second straight time to make it out of the fifth inning in the postseason. His bust of a start resulted in a 4-2 loss to Cleveland on Monday night that put the Red Sox down 2-1 in the AL championship series.
This isn't what the Red Sox expected last offseason when they paid the Seibu Lions $51,111,111 for Dice-K's rights and agreed to a $52 million, six-year contract.
"As you saw, I allowed them to score first, and I wasn't able to hang on after giving up the lead," he said through translator Masa Hoshino.
"I wanted to do everything I could today to win and hand it over to Wakefield in a good way," he added, a reference to Game 4 starter Tim Wakefield
Matsuzaka's most important numbers these days are 0 and 6.75 - his postseason wins and ERA.
After the game, he stared expressionless into his locker as he leaned back in his padded chair. He clasped his fingers behind his neck, cradled his chin in his left palm and finally spoke to his translator more than an hour after the game.
Last week, Matsuzaka allowed three runs over 42â3 innings in his postseason debut against the Los Angeles Angels, but Boston recovered to win 6-3 on its way to a sweep. In this one, he gave up four runs, six hits and two walks in 42â3 innings, striking out six.
"The more pitches you throw, especially to dangerous hitters, the better chance you give them," Red Sox manager Terry Francona said. "I mean, that's the same concept that we talk about all time. They kind of reversed it on us."
He threw 101 pitches after tossing 96 against the Angels.
"It's a lot of pitches, so it's a lot of deep counts," Francona said.
Matsuzaka thrived on the world stage, but he's flopped this October.
He pitched for Japan in the 2000 and 2004 Olympics and was the MVP when Japan won the first World Baseball Classic in March 2006. His most impressive pressure performance may have been the 1998 Japanese high school title game when he pitched a no-hitter.
He faded with the Red Sox this year, finishing 15-12 with a 4.40 ERA. He struggled with his control, especially from the stretch.
Dice-K started strong against the Indians, retiring the side in order in the first on a groundout and two strikeouts. He even got Victor Martinez on a grounder to start the second and fanned Jhonny Peralta after Ryan Garko singled.
Copyright 2018 The Associated Press. All rights reserved. This material may not be published, broadcast, rewritten or redistributed. We strive to uphold our values for every story published.