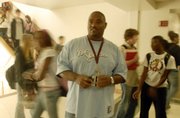 A Lawrence police school resource officer takes a report after two Lawrence High School students are stopped by LHS security on suspicion of smelling like marijuana and possessing the drug.
A Lawrence Douglas County Fire & Medical ambulance takes a 10th-grade Free State High School football player to Lawrence Memorial Hospital after he passed out during a mid-August practice.
Lawrence-Douglas County Health Department staff members work with the school district's nursing staff to notify parents and identify susceptible students after a chicken pox outbreak at Hillcrest School.
These are just three examples of the 38 times Lawrence school district administrators have called for an outside agency's help since the school year began in August. School leaders say it appears to be a normal year so far and that the instances illustrate the district's productive partnership with public safety agencies.
"The smart school leader is going to tap into those resources and use the community for a good backing," said LHS Associate Principal Matt Brungardt. "I think we have good relationships with all the agencies and that really helps us."
School security
One of the major cooperative efforts is having police officers stationed in the secondary schools, which has been the district's practice for the past several years.
Sgt. Dan Ward oversees the Lawrence Police Department's special projects unit, which includes the six school resources officers - each assigned to a junior high or high school. Ward says the schools are like "little cities" during weekdays. The school resource officers handle law enforcement duties at each school, consult with administrators and act as guest lecturers during classes.
"This is a great opportunity for the police officers to have contact with the citizens and build that rapport and have a better working relationship," Ward said.
With the city's tight budget situation, the program has generated discussion this year. City leaders have floated the idea of asking the school district to split funding for the officers and part-time crossing guards, at a cost of about $300,000 to $350,000 in the 2008-2009 budget.
That discussion will play out during the next year, but police and other area government and agency leaders say they have a positive relationship with the school district.
District administrators say the same and that the school resource officers are valuable for student safety.
"It's a commitment on the part of the school district and officials and administrators and also the same with outside agency officials," said Rick Gammill, the district's special operations director. "It's a passion for the kids, for the safety of the children."
Incidents this year
The school district notifies board members, school administrators and the media when an outside agency, including a school resource officer, provides assistance, such as breaking up a fight or locating a student who left school grounds.
Of the 38 notifications, police, the sheriff's department or school resource officers have been involved 31 times, mainly to assist with students who disobey staff members and became combative.
They have also responded in situations where students were suspected of using drugs or alcohol. Four of those calls have occurred at LHS and one at Central Junior High.
On Aug. 13, accident reports were taken after two noninjury wrecks occurred involving several students outside Free State High School.
Police have taken five reports of fights - three at Central and one each at LHS and Schwegler School. According to the notifications, 24 students have been suspended this year related to incidents involving notifications.
The report involving the most students occurred this month. School nursing leaders worked with health department staff to identify more than 40 students at Hillcrest School who might have been exposed to the chicken pox but not yet been vaccinated or had the virus.
Seven students there had contracted the chicken pox. Through school staff and the district's communications office, parents were notified to either bring in immunization records or get their child a shot or risk them being barred from school for three weeks, because of a new state regulation.
It all happened successfully within 48 hours.
"Certainly, this is the kind of working environment that is fostered over years in terms of the strong working relationship we work hard to foster," said Charlotte Marthaler, director of policy and planning for the health department.
Copyright 2018 The Lawrence Journal-World. All rights reserved. This material may not be published, broadcast, rewritten or redistributed. We strive to uphold our values for every story published.