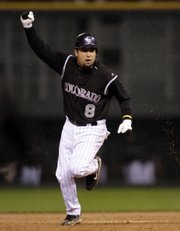 Denver — No more slumbering lumber for the Colorado Rockies, who are one victory away from roaring right into their first World Series.
With a cold rain falling, Josh Fogg shut down Arizona's bats in his first postseason start, and Yorvit Torrealba hit a tiebreaking three-run homer to fuel the Rockies' 4-1 victory Sunday night in Game 3 of the NL championship series.
MVP hopeful Matt Holliday also homered as the wild-card Rockies took a 3-games-to-none lead with their 20th win in 21 games. They will try to sweep the Diamondbacks tonight when Franklin Morales faces Arizona's Micah Owings in a matchup of rookies.
The Rockies, who this season set a major-league record for fielding percentage, turned three double plays in the first three innings.
"When you can take the sting out of them early ... I think it helped our confidence," Rockies manager Clint Hurdle said.
Now the Diamondbacks are hoping to join the 2004 Boston Red Sox, who rallied past the New York Yankees, as the only teams to overcome a 3-0 hole to win a best-of-seven postseason series.
"Until they win four and we can't win four at once. We've just got to get one on the board first," Arizona manager Bob Melvin said. "That's what we've been trying to do all year."
Torrealba connected in the sixth inning, three pitches after watching one of Livan Hernandez's trademark "eephus" offerings poke across the plate for a strike - so slow it didn't register on the stadium scoreboard radar.
After a 60 mph bender that he fought off for a foul, Torrealba hit a fastball 402 feet into the left-field seats, then raced around the bases pumping his fists and hooting and hollering.
"He worked me really well all season long. He tried to throw me a fastball inside, and it stayed over the plate, and I hit it really good," Torrealba said.
Torrealba, who is 8-for-21 in the playoffs with seven RBIs, nearly had a home run in the third when he doubled off the center-field wall. The stadium's pyrotechnics operator thought it was gone and set off fireworks as Torrealba pulled into second base.
The real fireworks came three innings later from Torrealba, who had just eight home runs in the regular season.
"That's kind of been the theme of this series so far. They've gotten that one big hit where we haven't," Melvin said.
Holliday's homer in the first inning was the first by either team in this series. Hernandez fell to 7-3 lifetime in the playoffs, allowing four earned runs on eight hits in 52â3 innings.
Fogg, who won Game 2 of the division series over Philadelphia in relief of Morales, scattered seven hits, including rookie Mark Reynolds' solo home run in the fourth, in six stellar innings. He didn't walk a batter and struck out three.
With the gametime temperature hovering at 43 degrees - and quickly dipping into the 30s - and a light drizzle falling, the crowd showed up wearing fleece jackets, gloves, wool caps and scarves, looking like they were headed for the ski slopes west of Denver, where it was indeed snowing.
Even Diamondbacks catcher Miguel Montero wore a ski cap beneath his catcher's helmet.
It was only fitting that the Rockies sent a pitcher named Fogg to the mound to deal with the elements in the first NLCS game in Denver in franchise history.
The Rockies have not lost since Sept. 16, and this victory at Coors Field was their ninth straight victory overall.
Holliday, with only two other hits in this series, neither of which left the infield, put Colorado ahead 1-0 in the first inning with a high drive. Left fielder Eric Byrnes crashed into the wall chasing the ball, much to the delight of the crowd that razzed him every chance they got.
Forty-eight hours earlier, Byrnes suggested the Rockies were a lucky bunch who had actually been outplayed by the Diamondbacks in this series.
Although that drew the ire of the fans, Rockies rookie shortstop Troy Tulowitzki said there was some truth to Byrnes' comments "and they can outplay us all four games. If we end up winning the series, I'll be fine with that."
After Fogg left, the Rockies turned to their trusty bullpen to wrap things up.
Jeremy Affeldt threw the seventh, Brian Fuentes the eighth and Manny Corpas the ninth for his fourth save of the playoffs. In Game 2 at Arizona, Corpas blew a save chance in the ninth inning.
"We got out of some jams early on," Fogg said. "I was fortunate to get a line drive right in my glove. We got some big ground balls the next few innings, Tulo turned a great double play for me, the defense played great behind me."
Had second baseman Kaz Matsui not stepped in front of Tulowitzki at the bag for the putout, the stronger-armed rookie might have had his second triple play of 2007. Tulowitzki pulled off the 11th unassisted triple play in major-league history back in May.
The Rockies are trying for their first NL pennant in the franchise's 15-year history, and history appears solidly on their side.
Arizona must win four straight games against a Rockies team that is the first since the 1935 Chicago Cubs to win at least 20 of 21 games after Sept. 1, according to Elias Sports Bureau.
Colorado is the second team in NL history to open the postseason with six straight wins, joining the 1976 Cincinnati Reds, which went 7-0 in the playoffs, sweeping the Phillies and Yankees for the Big Red Machine's second straight title.
Copyright 2018 The Associated Press. All rights reserved. This material may not be published, broadcast, rewritten or redistributed. We strive to uphold our values for every story published.