Photo Gallery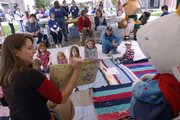 River City Reading Festival
If the inaugural River City Reading Festival was a success, then Jim Lehrer's speech and book signing was the highlight of the day.
Several hundred people turned out for the event at the Lawrence Arts Center, 940 N.H., which featured workshops, seminars and hands-on activities for the kids, and to hear the host of PBS' "The News Hour with Jim Lehrer" talk about books including the 17 novels he has written.
"It says a lot to me about a community when it hosts the equivalent of a sporting event in honor of books," Kansas State Librarian Christie Brandau said.
Brandau drew a connection between reading and crime, telling the crowd that some states project the number of prison beds they will need based on the number of third-graders who can't read at grade level. Lehrer told the crowd he was appalled at the number of people who don't read, as well as at a statistic that says one in four adults have not read a book in the past year.
Lehrer was born and spent many of his early years in small towns in central Kansas.
"When I bleed, I bleed Sunflower," Lehrer said. "Nothing could have given me more pleasure than keynoting the first River City Reading Festival, because I am a real Kansan."
Lehrer, who was born in Wichita, told the crowd that every one of the characters in his books has a last name that is a town in Kansas. Otis Halstead is the main character in "Eureka," from which he read Sunday and in which the character and the title take Kansas town names. A doctor in another book is named after Tonganoxie.
But so far no character has taken the name of the city that brought Lehrer back to Kansas this weekend. That will change soon.
Lehrer vowed that a character with the name of Lawrence will appear in one of his upcoming books, perhaps "Oh Johnny," which Lehrer expects will be released in the next year.
"Oh Johnny" is about a troop train that makes a stop at a station during World War II. It's based on a real experience from Lehrer's early life and it was during a recent trip to Wichita that the author saw the train station again and decided to use it for his book.
It's not the first time, he said, that a book was born that way.
"Some people go to the mountains or the beach; I go to Wichita," he said. "I go to Wichita and write all the time. Kansas is in me, in my writing."
Lehrer told the audience that the best way to write was to do a little bit every day. Even if you want to write a 300-page novel, he said, if you write just a page per day you're done in less than a year.
Before concluding his speech, Lehrer told the crowd that the best way to remedy the situation with Americans not reading was to have events like the reading festival.
"I'm going to expect everyone here today to be here every year and to bring someone else with you," he said.
Copyright 2018 The Lawrence Journal-World. All rights reserved. This material may not be published, broadcast, rewritten or redistributed. We strive to uphold our values for every story published.