Photo Gallery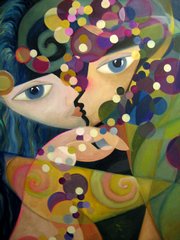 KPR listener art show
When Kansas Public Radio announced plans for a listener art show, station officials didn't know what to expect.
"We would have considered it a successful show if we had 20 or 25 submissions," says Phil Wilke, KPR's media manager. "That we ended up with 66 is just mind-blowing, from our standpoint."
Wilke says those 66 artists were asked to submit three pieces each for consideration. A three-member jury - one person from the station, two from the Lawrence Art Guild - selected which pieces would make the cut, though no artist was excluded.
The works include watercolors, oils, photography, mixed media and other styles. Many of the artists live in Lawrence and Topeka, though some came from as far as Matfield Green, Emporia and McPherson.
The show hangs in the conference room at the KPR studios, which are in an area of campus north of Memorial Stadium. The station regularly has shows by Lawrence Art Guild members.
"It's a good way for us to enliven the industrial gray walls," Wilke says. "On the other hand, it's a way to get out into the community. We're not just a classical music and jazz music station. We want to be a community cultural and artistic resource."
The show, which continues through the end of November, will be getting a lot of traffic this week as KPR continues its fall pledge drive. The room holds the food for volunteers.
The exhibit also is generally available for public viewing from 8 a.m. to 5 p.m. However, the public is asked to call 864-4530 in advance to make sure the conference room isn't in use.
Copyright 2018 The Lawrence Journal-World. All rights reserved. This material may not be published, broadcast, rewritten or redistributed. We strive to uphold our values for every story published.