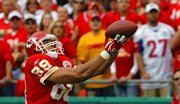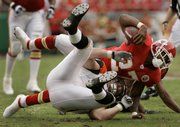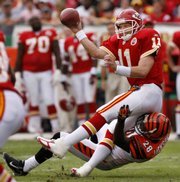 Kansas City, Mo. — Tony Gonzalez caught his record-breaking 63rd touchdown pass much the way he caught many of the first 62 - stretching out his 6-foot-5 frame as high and as far as he could and pulling the ball down in traffic with soft, powerful hands.
His three-yard touchdown catch in the first quarter Sunday gave Gonzalez the NFL record for tight ends.
Then the eight-time Pro Bowler caught Damon Huard's 26-yard scoring strike in the fourth quarter that proved the difference in Kansas City's 27-20 victory over the downward-spiraling Cincinnati Bengals.
"It wasn't the easiest (catch)," said a grinning Gonzalez, who broke the record of 62 TD catches by a tight end held by Shannon Sharpe. "I had to go get it. I was like, 'I'm not letting this one get away. I've been waiting a long time for it.'"
With Gonzalez getting two TDs and 102 yards receiving, the Chiefs (3-3) rolled up an impressive - for them - 354 total yards Sunday against the suspect and injury-weakened defense of the Bengals (1-4), who lost their fourth in a row.
The first sign that things would improve for the Chiefs came on their first play from scrimmage, when frustrated Pro Bowler Larry Johnson gained nine yards, just one short of the team's entire embarrassing rushing total in a loss to Jacksonville the week before.
"When you run the ball for 10 yards and you're supposed to be a running team, you don't have to say much in practice," Kansas City coach Herm Edwards said.
Johnson, who had not scored a touchdown after sitting out all of training camp, got 119 yards on 31 carries against a defense that had been giving up 152 yards on the ground. After his mistake cost the Chiefs a touchdown in the second quarter, he dropped to his knees on the sideline and bowed his head for several minutes.
A couple of minutes later, after a Carson Palmer interception, Johnson slipped into the end zone on an eight-yard run and the Chiefs had a 17-7 lead.
"That first play of the day kind of set the tone," Gonzalez said. "It got Larry going. It got his confidence going."
T.J. Houshmandzadeh caught eight passes for 145 yards and two touchdowns for Cincinnati but could not make up for a suspect defense that was further weakened by the loss of linebackers Ahmad Brooks and Rashad Jeanty and the suspension of cornerback Johnathan Joseph.
The Bengals, who have gone 1-7 since being 8-5 last year and holding a one-game lead in the wild-card chase, were 0-for-10 on third down conversions until finally getting their first in the fourth quarter.
"We're just not doing what we need to do on third down," said quarterback Carson Palmer, who was harried all day and sacked four times. "It's a key point in the game. I know I need to do better on third down. It's the quarterback's responsibility."
The Bengals gave up 106 yards to Johnson in the first half.
"He's a tough runner, a hard guy to bring down," said defensive tackle Domata Peko. "He's a big man and fast. As a defense, we've got to start off strong the next game."
Facing a third-and-10 with 22 seconds left, the Bengals had Shayne Graham kick a 36-yard field goal to slice the lead to seven points and give themselves a chance to get the ball back on an onside kick. But the Chiefs recovered, preserving the win.
Defensive end Jared Allen had 2 1/2 of the Chiefs' four sacks and frequently pressured Palmer into throwing early or poorly, or both.
"That's as good a front four as we've seen all year," said Palmer. "Jared is probably one of the most underrated defensive ends in the league."
In the second quarter, Johnson burst through a big hole from the 35 and was one step from the end zone when Deltha O'Neal reached around and knocked the ball loose. It rolled through the end zone for a touchback and Johnson returned to the sideline, dropped to his knees and bowed his head for several minutes.
Notes: When Dave kicked a 32-yard field goal on Kansas City's first possession, it was the first time all year the Chiefs have had a lead in the first half. Their 20 points in the first half were more than they'd scored in the other first halves of all their games combined. ... Cincinnati defensive end Justin Smith, a Missouri native, had 1 1/2 sacks, his first of the year.
Copyright 2018 The Associated Press. All rights reserved. This material may not be published, broadcast, rewritten or redistributed. We strive to uphold our values for every story published.