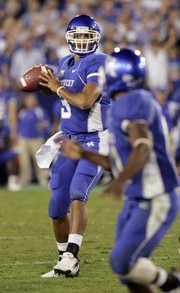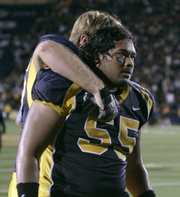 LEXINGTON, KY. — As a blue stream of Kentucky fans poured from the stands to celebrate the Wildcats' biggest victory in decades, Andre Woodson was in the middle of the party calmly talking about taking down No. 1 LSU.
"It proved we're a team that obviously earns a lot more respect now," Woodson said after No. 17 Kentucky upset the Tigers, 43-37, in triple overtime Saturday. "We've come a long way from being a doormat in the SEC to competing with the best teams in the SEC and getting some wins."
The Wildcats became the latest team to shake up the national-title race and the first in nearly four years to take down the top-ranked team in the regular season.
Woodson found Steve Johnson open in the end zone for a seven-yard score in the third extra period. With a chance to win it, LSU couldn't get a first down on four straight running plays. Charles Scott was stopped by Braxton Kelley a yard short on fourth-and-two.
"He came out of nowhere," said Scott, who came off the field in tears. "I thought I was close."
Oregon State 31, No. 2 California 28
Berkeley, Calif. - Playing with its No. 2 quarterback, California squandered a chance to grab the No. 1 ranking.
Yvenson Bernard leaped into the end zone on fourth down from the one with 8:30 remaining for the winnig score.
No. 3 Ohio State 48, Kent State 3
Columbus, Ohio - Brian Hartline returned a punt a school-record 90 yards and Donald Washington brought back an interception 70 yards to lead the Buckeyes.
No. 4 Boston College 27, Notre Dame 14
South Bend, Ind. - Matt Ryan threw for 291 yards and two touchdowns, Andre Callender scored three times, and Boston College remained undefeated.
The Eagles (7-0) appeared ready to blow the game open when Ryan threw a nine-yard scoring pass to Callender to make it 20-0 with 11:42 left in the third quarter.
No. 5 South Florida 64, UCF 12
Tampa, Fla. - Playing at home for the first time since climbing into the Top 10, the Bulls dominated Central Florida for their school-record-tying eighth straight victory dating to last season.
George Selvie, the nation's sack leader, led a defense that corralled the nation's leading rusher, Kevin Smith.
No. 7 South Carolina 21, North Carolina 15
Chapel Hill, N.C. - Chris Smelley threw a career-high three touchdown passes in the first half, and South Carolina withstood a late rally.
The red-shirt freshman improved to 4-0 as a starter.
No. 9 Oregon 53, Washington State 7
Eugene, Ore. - Dennis Dixon threw for 287 yards and three touchdowns, and Oregon handed Washington State its fourth straight loss.
No. 10 USC 20, Arizona 13
Los Angeles - Southern California got back to winning, but it was a struggle all the way.
Highly touted freshman Joe McKnight gave the Trojans the big plays they desperately needed, Mark Sanchez threw his first career touchdown pass, and USC rallied for the victory.
No. 12 Virginia Tech 43, Duke 14
Durham, N.C. - Sean Glennon threw for 258 yards and two touchdowns in relief of injured Tyrod Taylor, and Virginia Tech's defense shut down Duke.
Eddie Royal and Branden Ore also scored touchdowns for the Hokies during a 21-point second quarter.
Louisville 28, No. 15 Cincinnati 24
Cincinnati - Brian Brohm threw three touchdown passes and made a game-turning 51-yard completion, rallying Louisville.
With Louisville's Big East title chances on the line, the senior quarterback with the pro-style touch made the big plays and avoided interceptions against a defense that led the nation in coaxing them.
Iowa 10, No. 18 Illinois 6
Iowa City, Iowa - Iowa's Brett Greenwood intercepted an Eddie McGee pass at the goal line with 1:12 left, and the Hawkeyes snapped the Illini's five-game winning streak.
The Hawkeyes broke an eight-game losing streak in Big Ten play.
Penn State 38, No. 19 Wisconsin 7
State College, Pa. - Anthony Morelli threw for 216 yards and a score, and Penn State capitalized on mistake-prone Wisconsin.
Penn State moved the ball with ease in claiming its second straight conference victory.
No. 22 Auburn 9, Arkansas 7
Fayetteville, Ark. - Wes Byrum kicked his second game-winning field goal in three weeks, this one from 20 yards with 21 seconds remaining.
The Tigers held Darren McFadden to 43 yards rushing, the first time all season he has been under 100.
No. 24 Georgia 20, Vanderbilt 17
Nashville, Tenn. - Brandon Coutu kicked a 37-yard field goal as time expired to help Georgia overcome a 10-point halftime deficit.
Knowshon Moreno rushed for a career-high 157 yards in his first start for Georgia.
No. 25 Tennessee 33, Miss. State 21
Starkville, Miss. - Erik Ainge threw for 259 yards and two touchdowns, and Lucas Taylor had career highs of 11 catches for 186 yards for Tennessee.
Copyright 2018 The Associated Press. All rights reserved. This material may not be published, broadcast, rewritten or redistributed. We strive to uphold our values for every story published.