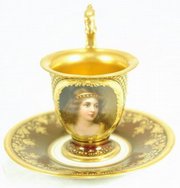 Current prices
Current prices are recorded from antiques shows, flea markets, sales and auctions throughout the U.S. Prices vary in different locations because of local economic conditions.
¢ McCoy cookie jar, kittens on ball of yarn, green, 8 1/2 inches, $55.
¢ Baltimore Orioles banner, 1966 World Series, Oct. 8-9-10, orange ground, 29 inches, $115.
¢ Elvis Presley headscarf, "I Want You, I Need You, I Love You," satinlike fabric, white with image of Elvis, facsimile signature, 1956, 29-by-31 inches, $150.
¢ Captain Kangaroo puppet, vinyl head, fabric body, felt hands, box, Rushton, 1950s, 10 inches, $195.
¢ Stevenson-Humphrey political button, photo of both on front with slogan, celluloid, red, white and blue, 3 inches, $280.
¢ Amberina glass water pitcher, square mouth, Coin Spot pattern, amber-reeded handle, 8 inches, $325.
¢ Cast-iron mechanical bank, Penny Pineapple, in honor of Hawaii's statehood, 1959, John Wright, $370.
¢ Movie window card, "Stage Door," Katharine Hepburn and Ginger Rogers, 1927, $400.
¢ X-Ray Sanitary Toothbrush display box, image of woman in nurse's uniform holding large toothbrush, includes five toothbrushes, c. 1900, 8 1/2 inches, $1,265.
Who made Royal Vienna porcelain? Collectors today call many pieces Royal Vienna because they have the famous beehive mark on the bottom or because they are decorated in the style now considered Royal Vienna. Plates and vases have elaborate gold border decorations and realistic, romantic portraits or scenes and the beehive mark. But it is the most imitated mark on porcelain. And the borders and scenes can be hand-painted by skilled artists or just decals that resemble the originals. The Imperial State Manufactory Vienna (the original Royal Vienna porcelain works) made porcelains from 1744 to 1864, when it closed. The firm, owned by royalty, used the beehive or shield mark. After 1864, many other small factories in Austria were permitted to use the name "Royal Vienna," and they often used the underglaze beehive mark. Several factories from other countries bought the old molds and made reproductions. The Vienna Porcelain Factory Augarten, started in 1922 and still operating, considers itself to be the successor to the original royal factory. But collectors want the quality, artist-decorated pieces, and some of the best were made by the small companies working after 1864.
Beware! The original porcelain works never used the words "Royal Vienna" or "Vienna" as a mark.
Q: I have a strange antique silver serving piece with an end that looks like part of a tube. I have been told it was used to make holes in cheese. Any idea why?
A: You must have a Stilton cheese scoop. Stilton cheese was first made in England in the early 18th century. Frances Pawlett made the blue cheese and sold it to her brother-in-law for his inn in Stilton. It was a coaching stop, and travelers referred to the cheese as the cheese from Stilton. It became popular and was made in other nearby counties, but was always called Stilton. Mrs. Pawlett made the cheese in 16-pound wheels that were carried in special Stilton market baskets. The cheese was kept at home in a Stilton Cheese Bell, a round dish with a dome cover. When served at a formal Victorian dinner, the wheel was put on the table, then pieces were scooped out with the silver Stilton cheese scoop. Today we think the scooped wheel is messy and wasteful, and the cheese tends to dry out, so the scoop is not used often. There are hundreds of variations of cheese scoops made of silver or silver plate. They cost from $50 to $1,000, depending on the design and maker. Most Stilton cheese is served today with a special server that resembles a sharp cake server. It cuts neat wedges. True Stilton cheese is made by only six creameries in England.
Q: Can you tell me anything about an old toy we have called a Spirograph?
A: We remember a metal drawing toy from the 1930s and later that made elaborate circle designs with a pencil held by a rotating arm. It was called a Hoot-Nanny. Years later, in 1962, an Englishman named Denys Fisher invented a tool to help draw waves for scientific use. No one wanted it, but his family thought it would be a good toy for children. They made a kit and showed it at an international toy show in 1965. The toy was bought by Kenner, and by 1966 the company was selling "Spirograph" sets. The toy was very popular and soon there were other related Spirograph toys. The first set, Kenner 401, has 22 gears, pens, pins and a design book. The placement of the gears makes it possible to draw circles and spirals into elaborate pictures. Fisher earned a lot of money from the Spirograph and started his own toy company. He sold it to General Mills for a big price. Collectors prefer the original United States set, Kenner 401, but many different Spirographs are available online.
Q: Our small roll-top desk was made by the Illinois Cabinet Co. of Rockford, Ill. When did the company exist?
A: Illinois Cabinet Co. was founded in 1906. Sometime after the advent of television, General Electric bought Illinois Cabinet Co. and renamed it Illinois Cabinet Works. From then on, General Electric used the factory to make cabinets for GE television sets. So the company existed from about 1906 to 1950. Your roll-top desk probably dates from before World War II.
Q: While cleaning out my mother's kitchen, I came across two matching wooden paddles with deep ridges on one side and a smooth surface on the other. What could they possibly be?
A: The paddles were used to make balls of butter to serve on butter plates at a fancy party. Butter came in pound-size balls or loaves, not in the neat sticks we buy today. Your mother, or perhaps her mother, broke off a small piece of butter from the large ball and rolled it between the paddles to make a pretty ball for serving to company at the dinner table.
Copyright 2018 The Lawrence Journal-World. All rights reserved. This material may not be published, broadcast, rewritten or redistributed. We strive to uphold our values for every story published.