Photo Gallery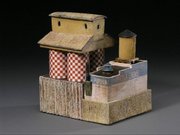 Ceramics
Past Event
When: Wednesday, October 17, 2007, 7 p.m. to 9 p.m.
Where: Lawrence Arts Center, 940 New Hampshire St., Lawrence
Cost: Free
-->
-->
Growing up in the 1950s, Dan Anderson was mesmerized by "Flash Gordon."
"I could see the monofilament cord holding up the rocket ship in the TV show, but that didn't bother me," he says.
Later, when Anderson started making art, he was drawn to the rocketlike shape of water towers, church steeples and grain elevators. Now a nationally celebrated ceramic artist and teacher, Anderson is best known for works that pay homage to those disappearing forms.
"It used to be when you traveled down a highway ... church steeples, granaries and water towers are kind of what you saw in the distance," he says. "Anymore, they're building them new and low to the ground. I guess it's easier to maintain."
Anderson will talk about his work and give a demonstration during the 2007 National Juried Ceramics Exhibition and Symposium this week at the Lawrence Arts Center, 940 N.H. He'll be joined by six accomplished ceramists from across the country.
"It's a really wide range of artists who make different things," says Anderson, who juried the exhibition portion of the event. "Some are figurative, some sculptural. Some of them make massive, 20-foot-tall pieces; some of them make tiny things."
Ben Ahlvers, associate education director at the arts center, organized the activities.
"The arts center has never put on an event on this scale in the visual arts," says Ahlvers, himself a ceramic artist. "I think this propels this place into more of a national scene. It functions great as a community arts center, but I think it can exist and have a presence on a much broader scale.
"And that's based on my experiences in other places around the country. I think this place has got it."
'A good pace'
If Ahlvers sounds fired up, it's because he is.
Since he started managing ceramics at the arts center three years ago, the program has grown in size, quality and reputation.
Ahlvers founded a residency program that brings in an artist each school year to create work and have an exhibition in exchange for helping to run the studio.
He has increased the size of the Souper Bowl, an annual benefit sale for the ceramics program.
And last year he garnered two grants that amounted to about $60,000 for equipment. The majority of those funds helped purchase a new gas kiln.
"We had an opportunity with this amount of money to invest in something that will last a long time," Ahlvers says. "It really gave us a boost, and makes this a very competitive community ceramics studio."
In the midst of these efforts, Ahlvers proposed a juried ceramics show to gallery director Rick Mitchell, who liked the idea. Ahlvers lined up Dan Anderson, his former professor at Southern Illinois University, to judge the exhibition. And Anderson offered to bring friend and fellow artist Bob Archambeau to Lawrence to conduct a workshop.
"So then it just got to snowballing - with all this equipment and enrollment being very good and things going along at a good pace. I just started making a wish list of people that I would like to see come here," Ahlvers says.
Much to his surprise, the artists were all intrigued by the idea of coming together at one venue.
"The final lineup was really predominantly my first choice," Ahlvers says.
Ceramics destination
In addition to Anderson and Archambeau, other symposium artists will be Brad Schwieger, Jane Shellenbarger, Janis Mars Wunderlich, Michaelene Walsh and John Balistreri.
Each also will have a piece in the accompanying exhibition, which features about 80 works from artists across the country - pared down by Anderson from about 170. Everything from functional pots to decorative vessels to sculptures will be on display in the gallery, alongside a small solo show by Ahlvers.
Anderson says Ahlvers bit off a formidable chunk by organizing such a large event his first time out. It's among the reasons he's so proud of so many of his former students.
"I found out early on that my legacy is not my work. It's in a lot of museums and a lot of important collections," Anderson says. "But I realized about 10 years into teaching that my legacy was going to be my students, like Ben, who will carry forward after I'm gone."
Anderson, who taught at SIU in Edwardsville, Ill., for 32 years and elevated the program to a national destination for ceramics students, says events like the symposium and exhibition in Lawrence are slowly heightening respect for the art form.
"Certainly ceramics has grown in stature, but there's still a long way to go in our culture," he says, noting the medium's place of reverence in Asian nations. "It's taken people like Peter Voulkos and Toshiko Takaesu and Robert Arneson. There's been a tremendous amount of fantastic artists that are part of that post-World War II momentum that fueled ceramics and kind of got it out of the home ec departments.
"It's certainly a bona fide area in universities and art schools now, but it still can't hold a candle to the big guns: architecture, painting and sculpture."
Copyright 2018 The Lawrence Journal-World. All rights reserved. This material may not be published, broadcast, rewritten or redistributed. We strive to uphold our values for every story published.