Photo Gallery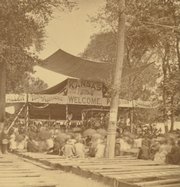 Collective memory
The poster offers a $200 reward for the capture of two runaway slaves.
Jim and Jack were their names. They escaped from Saline County, Mo., and were, according to the poster, "doubtless aiming for K.T."
That's Kansas Territory. It was June of 1860, and Kansas was battling to enter the Union as a free state.
The slaveowner's appeal, printed in heavy black ink on paper now aged and discolored, makes real the tension of this period in history.
"It's pretty important in the sense that we understand why, for Missourians, this issue of having a free state so close to them is very important," says Jason Pendleton, a history teacher at Free State High School. "You've already got Iowa on one side and now, with Kansas emerging, this puts it into perspective why this is very dangerous to them and a threat to their way of life."
Until now, Pendleton would have had to plan a field trip to the Kansas State Historical Society in Topeka to show the poster to his students.
But thanks to the society's new Web site, Kansas Memory (www.kansasmemory.org), Pendleton and his students can call up the document in an instant. It's one of about 4,600 photographs, letters, diaries and other items on the site, which launches officially on Tuesday at www.kansasmemory.org.
"We have a lot of really unique or rare materials, and the Internet and digitization really gives us an opportunity to reach many more people than would ever be able to come to our research room here in Topeka and use those things," says Pat Michaelis, the society's state archives and library director. "Now they can use them 24 hours a day, seven days a week. As one person said, 'I can look at this in my pajamas.'"
Creating access
Former Kansas Gov. John Carlin will speak at the launch event, set for 10 a.m. Tuesday at the historical society, 6425 S.W. Sixth Ave., in Topeka. After leading the state from 1979 to 1987, Carlin served as archivist of the United States for 10 years beginning in 1995.
During his tenure, he worked to make the archives more accessible to the public and started the agency on a path toward digitizing its massive collection. He applauds the historical society's efforts.
"I think it's fantastic that we keep records, keep documentation, information on our past," Carlin says, "but if those records aren't being used or seen, the value is certainly significantly less.
"Given the technology that's available to us today, I think it's incredibly important that we use that technology to reach people, and particularly young people in school now because they tend to use the Internet to get much of their information."
In fact, Kansas Memory was designed with secondary school teachers and students in mind, Michaelis says. By the end of the year, the site will have a teachers' page that ties certain items in the collection to Kansas and American history standards.
That will be a welcome function for Pendleton, who takes every opportunity he can to bring history alive for a generation many times removed from the events he's teaching.
"I think sometimes it's difficult because you're talking about things they don't have a point of reference to," Pendleton says. "Their sensory experiences are so much different from when I was in high school in terms of what they've been exposed to via videos and movies.
"A discussion is somewhat more difficult for them to make a connection to."
'Ready for history'
In addition to perusing documents and photos, visitors to the site can listen to dramatic readings in the Kansas Memory podcasts and subscribe to Web feeds for the latest updates.
One of the site's strengths, Michaelis says, is leading users to content when they don't know specifically what they're looking for. This is possible because of a navigation system that constructs searches using broad categories, such as "Type of material" or "Date," then allows for narrowing via sections as specific as "Disasters and accidents" and "Livestock."
For users conducting more extensive research, Michaelis hopes the site will serve as an entry point.
"If someone finds a letter from Governor Capper's papers, maybe they'll make the next stop and say, 'Oh, the historical society must have a whole collection of his papers. I should check with them,'" Michaelis says. "Right now (the site) really is the tip of the iceberg."
Indeed, the materials on Kansas Memory represent less than a fraction of 1 percent of the 40,000 cubic feet of records, 100,000 cubic feet of personal papers, 500,000 photographs and other documents in the society's collection, Michaelis says.
The society will continue adding items to the site and has even reshuffled jobs to make such additions a priority.
"We think this is really important," Michaelis says. "That's the reason we collect all this material and save it is so that people can really use it."
Carlin, who has especially enjoyed the site's extensive materials on Kansas' early statehood, says he didn't find anything about himself on Kansas Memory.
"But I wasn't necessarily looking," he says.
(For the record, there are two entries: a photo of Carlin wearing a pinstriped three-piece suit in his Kansas governor's office, and a letter from a constituent disappointed in Carlin's veto of a bill that would have reinstated the death penalty.)
"I'd like to think of myself as young and that my records are not quite ready for history," Carlin says. "But the truth is, they are."
Copyright 2018 The Lawrence Journal-World. All rights reserved. This material may not be published, broadcast, rewritten or redistributed. We strive to uphold our values for every story published.