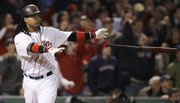 Boston — Trot Nixon got another big hit in Boston.
This time, he beat his old mates.
The former Red Sox stalwart snapped an 11th-inning tie with a pinch-hit single, and the Cleveland Indians broke loose for six more runs to beat the Red Sox 13-6 early this morning and tie the AL championship series at a game apiece.
The best-of-seven series moves to Cleveland for Game 3, when Red Sox rookie Daisuke Matsuzaka will face Jake Westbrook.
The anticipated matchup of 2001 World Series co-MVP Curt Schilling and 19-game winner Fausto Carmona fizzled into a stalemate that lasted 5 hours, 14 minutes. It ended at 12:37 a.m., when Joe Borowski got a game-ending double play.
Tom Mastny got the win and deserved it: He retired David Ortiz, Manny Ramirez and Mike Lowell in order in the 10th - something few other pitchers have done this offseason. With Red Sox closer Jonathan Papelbon done after pitching two innings, Eric Gagne came in for the 11th.
The trade deadline acquisition fanned Casey Blake to start the inning, then gave up a single to Grady Sizemore and walked Asdrubal Cabrera.
Nixon, a first-round draft pick who spent the first 13 years of his career in the Boston organization, singled off Javier Lopez to right-center to break the tie.
The Indians, handcuffed by Josh Beckett and the Boston bullpen in Friday's opener, weren't done.
After a run-scoring wild pitch and Ryan Garko's RBI single chased Lopez, Jon Lester came on and gave up Jhonny Peralta's RBI double and a three-run homer to Franklin Gutierrez that made it 13-6.
In Cleveland, the Indians will need Westbrook, their No. 3 starter, to do what co-aces C.C. Sabathia and Carmona couldn't: Keep Ortiz and Ramirez off base, or at least keep Lowell from driving them in.
"We have enough depth throughout the lineup, or if people pitch around somebody, it ends up hurting them," Red Sox manager Terry Francona said before the game.
Copyright 2018 The Associated Press. All rights reserved. This material may not be published, broadcast, rewritten or redistributed. We strive to uphold our values for every story published.