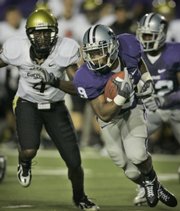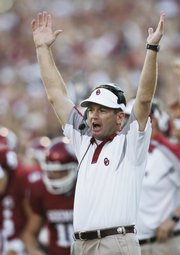 Manhattan — James Johnson ran for 159 yards and two scores, Deon Murphy caught one touchdown pass and scored on a 20-yard reverse and Kansas State knocked Colorado out of the Big 12 North lead with a 47-20 victory Saturday night.
Johnson opened Kansas State's scoring with a 5-yard run in the first quarter and closed it with a 63-yard TD burst late in the fourth.
Brooks Rossman kicked four field goals for the Wildcats (4-2, 2-1 Big 12), including a 52-yarder as time ran out in the first half for a 23-13 lead. He was the first Kansas State player with four field goals in a game since Joe Rheem hit four against Louisiana-Lafayette on Sept. 18, 2004.
Rossman missed tying Jamie Rheem's single-game school record of five field goals when he was short on a 46-yarder against the wind in the fourth quarter. He could have taken a shot from 39 yards in the game's final seconds, but coach Ron Prince elected to let the clock run out.
Colorado (4-3, 2-1) now trails No. 20 Kansas by a half-game in the North. The Buffaloes got a career-high 171 yards rushing and one touchdown from Hugh Charles, but those were overshadowed by four turnovers - including Cody Hawkins' three interceptions.
Colorado also made two fourth-down mistakes that let Kansas State pad its lead at key points in the game. Rossman's 52-yarder came after Colorado coach Dan Hawkins' failed decision to go for it on fourth-and-6 from Kansas States 46 with 25 seconds left in the first half.
And in the closing seconds of the third quarter, Colorado punter Matt DiLallo dropped a snap just outside his own end zone. Daniel Gonzalez blocked DiLallo's punt, and Courtney Herndon recovered in the end zone for a 40-20 lead.
Murphy's first score put the Wildcats up 17-3 late in the first quarter. As quarterback Josh Freeman and Johnson took off right on an option play, Murphy - who was lined up wide right - headed straight for them.
He cut between Freeman and Johnson, took the pitch and swept untouched around the left side for the score.
Just after the midpoint of the third quarter, Murphy's 28-yard catch made it 30-13. He caught Freeman's pass over the middle, juked two defenders off their feet and outraced cornerback Gardner McKay to the flag.
Kansas State, which never trailed, went up 10-0 on Johnsons 5-yard TD run and Rossman's 20-yard field goal in the first quarter. The Buffaloes got within 10-3 on Kevin Eberhart's 50-yard field goal later in the first.
They closed the gap to seven points twice more. Cody Hawkins' 1-yard pass to Jake Behrens got Colorado within 17-10 early in the second quarter, and Eberhart's 24-yard field goal narrowed Kansas State's lead to 20-13 later in the second.
No. 6 Oklahoma 41, No. 11 Missouri 31
Norman, Okla. - Chris Brown ran for three second-half touchdowns, Curtis Lofton returned a fumble for a touchdown and No. 6 Oklahoma knocked No. 11 Missouri from the ranks of the unbeaten.
Brown put the Sooners (6-1, 2-1 Big 12) ahead to stay with his 1-yard touchdown run with 12:26 remaining, and Lofton scooped up a botched handoff and returned it 15 yards for a score 46 seconds later as Oklahoma kept the Tigers from entering the national title picture.
Brown, who finished with 67 yards on 13 carries, sealed the victory with a 23-yard TD run with 2:39 remaining.
Missouri (5-1, 1-1) had lost 16 straight games in Norman dating back to 1966 but put up fight in this one.
Quarterback Chase Daniel, who ranks third in the nation in total offense with a 380-yard average, was more of a setup man for the Tigers after throwing for a career-high 401 yards the previous week in a 41-6 win against Nebraska. He delivered key blocks on both touchdown runs by NCAA all-purpose yardage leader Jeremy Maclin, and then pitched the ball to Jimmy Jackson on a 4-yard option run that put Missouri up 24-23 late in the third quarter.
After that, Brown and Oklahoma's running game - which had totaled only 40 yards in the first three quarters - took over.
Texas Tech 35, Texas A&M; 7
Lubbock, Texas - Graham Harrell threw for 425 yards and three touchdowns and ran for another score for Texas Tech.
Harrell, who was 30-of-37, had TD passes of 12, 28 and 8 yards, and none went to Michael Crabtree, his favorite target this season.
Crabtree came into the game with a nation-leading 17 touchdown catches. Crabtree had at least two scores in each of the first six games.
Tech (6-1, 2-1) held the Aggies (5-2, 2-1 Big 12) scoreless the final three quarters.
Harrell was visibly shaken up late in the second quarter after taking what appeared to be a late hit. No flag was thrown when Aggies defensive lineman Von Miller clobbered Harrell in the right side a couple of seconds after Harrell threw toward Shannon Woods.
Referee Tom Walker's microphone remained on after announcing the incompletion to Woods. He immediately turned to Harrell and asked, "You all right?"
Two plays later, Harrell continued to talk to the refs about the lack of a flag as he approached the line of scrimmage.
Tech went on to score on the drive to go up 21-7 just before halftime, and Harrell finished the game.
No. 23 Texas 56, Iowa St 3
Ames, Iowa - Colt McCoy threw four touchdown passes and ran for another as No. 23 Texas ended its longest conference losing streak in 51 years.
McCoy followed up a strong performance in last week's loss to Oklahoma with an even sharper game, setting the tone for the Longhorns (5-2, 1-2 Big 12) by tossing a 58-yard touchdown pass on their first play.
Iowa State (1-6, 0-3) couldn't pressure McCoy or cover his receivers and suffered its worst loss since a 77-14 pounding by Nebraska in 1997.
McCoy, calling most of his plays without huddling, directed the Longhorns to touchdowns on his first five series and finished 23 of 30 for 298 yards and no interceptions.
Texas broke a four-game Big 12 losing streak that dated back to last season.
Copyright 2018 The Associated Press. All rights reserved. This material may not be published, broadcast, rewritten or redistributed. We strive to uphold our values for every story published.