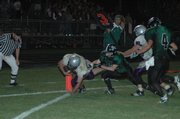 De Soto — Baldwin High opened district football play with a dominating victory over De Soto on Friday.
The Bulldogs (5-2 overall, 1-0 district) rushed for 421 yards and five touchdowns as they cruised to a 35-7 victory over De Soto (4-3, 0-1).
"This is a new season for us, and we told our kids before the game that everybody is 0-0 in the state," Baldwin coach Mike Berg said. "We played a very good ballclub tonight with a lot of team speed. I am proud of our defense and how they corralled them."
Baldwin's Luke Weaver was excited to win Friday, although the Bulldogs did allow one Wildcats score.
"This was a great way to start things off," Weaver said. "Our defense did exceptionally well tonight. One deep bomb stopped us from getting a shutout. I would have liked a shutout, but I'll take seven points (in district standings)."
Baldwin controlled the line of scrimmage and time of possession from the opening snap.
BHS carried the ball 55 times for 421 yards, while the Wildcats rushed the ball 27 times for 81 yards.
BHS running back Sam Beecher led the way with three touchdowns. He scored on runs of 34, 20 and 27 yards. Jared Hall and Gabe Mason scored the other touchdowns for BHS.
"In the first half we were getting minimal yards, but then we finally starting getting some big chunks in the second half," Berg said. "That's what this offense does. It just wears teams down."
Baldwin carried a 14-0 lead into halftime, but De Soto looked as if it might mount a comeback early in the third quarter. The Wildcats drove 71 yards, but Baldwin's Zach Durr intercepted Erik Hill's pass.
BHS then drove 97 yards in 14 plays. Mason's touchdown gave BHS a 21-0 lead at the end of the third quarter.
De Soto did rebound. Dylan Burford rushed for a four-yard touchdown. Then Baldwin took the wind out of the Wildcats' sails.
Baldwin recovered an on-side kick. Then Mason broke loose on a 46-yard run before Hall scored three plays later on a three-yard run.
"I don't get the ball a lot, because I am the fullback," Hall said. "I just told myself I was going to run as hard as I possibly could every time I got the ball."
BHS scored its final touchdown on its next possession. After the Bulldogs stopped a fourth-down attempt, Beecher ran a sweep around the left side for a 27-yard score.
Both teams will be on the road next week for their second district games. Baldwin will travel to Spring Hill; De Soto will head to Eudora.
"Our goal is 3-0 in districts," Hall said. "We've got one down and two to go."
Copyright 2018 The Lawrence Journal-World. All rights reserved. This material may not be published, broadcast, rewritten or redistributed. We strive to uphold our values for every story published.