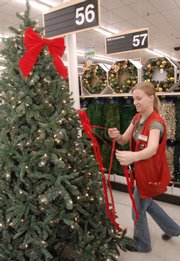 -->
On the street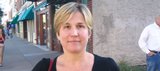 I would say I start about December 23rd, but I'm always running late.
Margie Hinkle keeps a keen eye out for holiday values pretty much year round, but that's mostly so she can unwrap ideas - a swath of colors, an appropriate sentiment, a certain material that might one day be crafted into a personal project to be given to a friend or loved one.
But right now, more than two weeks before Halloween, she doesn't need to see a tree skirt, green extension cords or a 48-inch-tall animated polar bear with "300 clear super bright minilights" from the Soft Tinsel Collection.
Christmas sales already?
"I'm 71," she said Thursday, staring at a wall of holiday cards at Target, 3201 Iowa. "Things weren't out this early when I was younger - things weren't out this early 30 years ago, or even just a few years ago.
"I sometimes wonder if it's a setup, so they can mark it down later."
Well, get used to it.
These autumn days, shops are doing more than putting out boxes of holiday cards, stocking wrapping paper and plugging in giant snow-blowing globes. Even some of the country's largest retailers - that's right: Wal-Mart - are cutting prices on toys and other goods, hoping to get a jump on a holiday shopping season expected to have chillier sales than usual.
"Certainly specialty stores - where the majority of their sales come from holiday sales - will look at this as do or die," said Kathy Grannis, a spokeswoman for the National Retail Federation, which forecasts the slowest growth in holiday shopping receipts since 2002. "If we really are in for an more modest holiday season than we've seen in recent years, then retailers - especially those smaller retailers, or specialty-type ones - should be decking their stores out already."
This week at Dillons, 4701 W. Sixth St., Susie Norton had to steer her cart between a box of "Fresh Jack-o-Lantern" pumpkins and a table stacked with "'Tis the Season" greeting cards.
Norton not only isn't surprised; she also doesn't mind.
"I have five kids. I have to think about it ahead of time," she said, buckling her 19-month-old daughter, Lily, into a cart. "It helps me keep the holidays in mind."
Copyright 2018 The Lawrence Journal-World. All rights reserved. This material may not be published, broadcast, rewritten or redistributed. We strive to uphold our values for every story published.