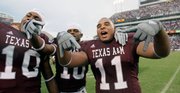 College Station, Texas — The Texas A&M; Aggies have watched the replay over and over and it gets funnier every time.
Jorvorskie Lane, the Aggies' 6-foot, 274-pound tailback, collides with an Oklahoma State defender in last Saturday's game and the Cowboy bounces backward, as if yanked by an elastic cord.
"It was like he had a rocket attached to him," said quarterback Stephen McGee. "He literally flew five yards."
Lane shrugs off the play, a typical one in his three seasons. He's always been hard to bring down, and he knows that smaller defenders that take him on rarely stand a chance.
"He had no other choice but to hit me low," Lane said. "He shouldn't have did that."
But Lane proved against Oklahoma State that there's more to his game than brute power. He threw a perfect 49-yard pass and made his first career touchdown catch.
"We all came out of last Saturday night's game saying the J-Train is a pretty valuable player," said A&M; coach Dennis Franchione. "He does things that you just don't think a guy his size can do at the level that he does."
The Aggies (5-1, 2-0 Big 12) play Texas Tech (5-1, 1-1) in Lubbock on Saturday, and Lane figures to be the centerpiece of A&M;'s obvious strategy - run the ball, drain the clock and keep the nation's No. 1 offense off the field.
Strangely, Lane got only two carries in A&M;'s 34-17 loss in Miami on Sept. 20. At one point, a television camera caught the frustrated Lane swatting away a water bottle in frustration.
Franchione and offensive coordinator Les Koenning said Miami neutralized Lane by using two NFL-caliber defensive ends to shadow him. But Lane has re-emerged in A&M;'s last two games, rushing 43 times for 200 yards and three touchdowns.
He's glad to be carrying the load again.
"When Coach Koenning and Coach Fran call my plays, I just execute from there," he said.
Now, if only he could get people to stop judging him by his size and underestimating his versatility.
Lane booted extra points in middle school, and punting was among many roles he filled as a three-year starter at Lufkin High School.
He also played a little quarterback and has never been shy about showing off his arm during practice.
"He's pretty proud of his passing," McGee said.
Early in the fourth quarter against the Cowboys, Franchione called on Lane to throw a deep pass to speedster Kerry Franks. McGee said Lane's eyes got wide when the call came in from the sideline.
Lane took the ball from McGee, rolled right and heaved a tight spiral almost 50 yards. Franks hauled it in, but was tackled at the 1-yard line, costing Lane a touchdown pass.
Lane wasn't mad. That just gave him another chance to show off his specialty - the bruising, short-yardage run.
"I wasn't upset at all," Lane said. "I just told him, 'You know what time it is now,"'
Lane barreled into the end zone on the next play, his 38th career rushing touchdown. The Aggies have converted 31 of 33 trips inside the red zone this season, and Lane has rushed for 10 of A&M;'s 22 touchdowns.
Whenever the Aggies get inside the 5-yard line, everyone knows who's getting the ball. Still, opponents can rarely stop it.
But when Lane returned to the sideline after the TD run on Saturday, he found McGee and wanted to talk more about his pass.
"He was like, 'What's up, big daddy?' I was like, 'That ball looked better than yours, didn't it?"' Lane said with a smile. "I throw the ball every day in practice. It's not a real big deal to me. It paid off, I guess."
Copyright 2018 The Associated Press. All rights reserved. This material may not be published, broadcast, rewritten or redistributed. We strive to uphold our values for every story published.