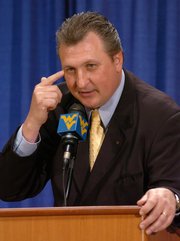 Charleston, W. Va. — Bob Huggins' dream job is about to begin - in a big way.
No more pep talks to alumni and fans. No more basketball camps. No more recruiting. Finally, Huggins gets to scold, teach and mold his players full time, beginning tonight at the official start of practice at West Virginia.
"It seems like I've been gone every day," Huggins said Thursday. "I'm just so happy I'm off the road and back to coaching. I can hardly stand it."
Three decades after his playing days at his alma mater, a new generation will see Huggins' intense and unrelenting coaching style in person, their roles far different than the three-point-loving offense of his WVU predecessor, John Beilein.
Huggins anticipates an emotional return to the WVU Coliseum in Morgantown where he played from 1975 to 1977, leading the Mountaineers in assists his senior year.
Early-season ticket sales have been strong, although it's too soon to tell whether Huggins will have a huge impact. The Mountaineers sold 5,600 season tickets last year.
"All indications are that it's going to be a good year," said Matt Wells, WVU's ticket marketing manager.
West Virginia couldn't lure Huggins back five years ago after Gale Catlett's retirement. Huggins was ousted after 16 seasons at Cincinnati following a 2005 drunken driving arrest. He took a year off and coached last season at Kansas State.
West Virginia athletic director Ed Pastilong didn't need to beg Huggins again when Beilein left for Michigan in April, even though it meant leaving behind one of the nation's best recruiting classes at Kansas State.
Huggins' work at West Virginia began with a recruiting trip the day after he was hired. He's since criss-crossed the state too many times to count - not to mention many out-of-state plane trips. And never mind the 54-year-old Huggins is only five years removed from a heart attack.
"In my line of work, people used to say, 'man, you need to slow down, stop and smell the roses,'" Huggins said. "Well, what happens when you slow down, stop and smell the roses, people like Rick Pitino and Billy Gillispie run right by you."
He'll have some work to do to move closer to those established programs at Louisville and Kentucky, teams he was familiar with at Cincinnati.
Huggins inherited three starters from the team that won the NIT championship. His influence on his new players was immediate.
"I think we lost a couple games last year when we were out-toughed," forward Alex Ruoff said. "I don't think that will happen this year. I am excited. A lot of things are new."
Guards Da'Sean Butler and Joe Mazzulla and forwards Joe Alexander and Wellington Smith have put on noticeable weight through offseason workouts.
The roles among the eight returning players will be much different than a year ago.
Huggins plays a tough man-to-man defense, far different the Beilein's signature 1-3-1 zone.
Smalligan, a 7-footer who made 45 percent of his 3-point shots, will be a true center. Nichols will be molded into more of a scorer.
The regular season begins at the Coliseum on Nov. 16 in the Legends Classic against Arkansas-Monticello.
"This is home," Huggins said. "This is where I've always wanted to be."
Copyright 2018 The Associated Press. All rights reserved. This material may not be published, broadcast, rewritten or redistributed. We strive to uphold our values for every story published.