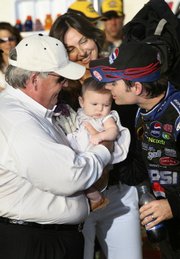 Charlotte, N.C. — Jeff Gordon spent months imagining what it would be like to celebrate in Victory Lane with his daughter. With a last-lap pass of teammate Jimmie Johnson at Talladega Superspeedway, the new father made it happen.
With his victory Sunday at Talladega, Gordon scored his fifth victory of the season - but first since daughter Ella was born June 20. As he drove his car toward the celebration, he became emotional when he realized he would be greeted for the first time by both his wife, Ingrid, and their only child.
"It was probably the coolest Victory Lane that I've ever had," said Gordon, who has won 80 races in his Nextel Cup career.
"I always wondered and hoped that that moment would come, and I hope that it comes again when she can talk and remember the experience. But the fact that she was there, as soon as I started thinking about her meeting me there, I started tearing up."
That was nothing compared to when he first made eye contact with Ingrid, who was waiting with Ella in her arms.
"She looked at me, and I looked at her, and we both just kind of lost it," Gordon said. "She and I had talked about how amazing it would be, for Ella to be able to experience a lot of things that we've been able to experience.
"We know that she's not yet able to remember it, but the fact that it's even happening is cool to us. It was special. It was a big win, and it came at a great time, and just knowing that Ingrid and Ella were there was amazing."
Ella starred in numerous Victory Lane photos, alternating between her parents and car owner Rick Hendrick, who basked in the moment.
"It was really cool because Rick is the godfather, and he's always wanting pictures," Gordon said. "So that he got to hold her and have his picture taken with her, that was very special to him."
The victory made Gordon the career wins leader at restrictor-plate tracks - he now has 12, one more than the late Dale Earnhardt - and also pushed him back on top of the points standings.
The four-time series champion heads to Lowe's Motor Speedway this weekend with a nine-point lead in the standings over Johnson with six races to go in the Chase for the championship. Gordon knows it's shaping up to be a battle to the end with his teammate, and is hoping after the successful year he's had, he'll come out on top and win his first title since 2001.
All his titles were won before he met Ingrid, and he wants nothing more than to celebrate as the champion in New York City with his new family. But should he come up short, he'll still consider this year a tremendous success.
"Ingrid has never been a part of all this, so I know it would be really special for her," he said. "But I think for us, the whole banquet, the trip to New York, it will all be special because of the year we've had: Becoming parents, the great year we've had on the race track.
"No matter what happens, it's going to be special and a hard speech to get through."
Unlike Johnson, who took the first part of this week off to rest before Lowe's, Gordon was hard at work Wednesday raising money for the Hendrick Marrow Program.
He was participating in his annual go-karting challenge, followed by a formal dinner with a live auction. Last year's event raised $256,000 for Hendrick, and Gordon was hoping to top that Wednesday. He recruited crew chief Steve Letarte and Hendrick vice president Doug Duchardt to run the auction, which boasted items such as lunch with Gordon and a ride-along with Johnson during a test session.
Gordon has made leukemia awareness a central part of his Jeff Gordon Foundation because of his experiences when former crew chief Ray Evernham's son was diagnosed with the disease as an infant, and later, Hendrick's battle with it.
"The whole thing really started first with Ray J. and then Rick, and one of the things Rick pointed out to us was if he had needed a transplant, through his research, he found just how hard it is for the many people who need one to get one," Gordon said.
Copyright 2018 The Associated Press. All rights reserved. This material may not be published, broadcast, rewritten or redistributed. We strive to uphold our values for every story published.