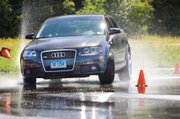 In Consumer Reports' latest tests of summer and all-season ultra-high-performance tires (UHP), CR identified a few excellent tires from Falken, Michelin, Nitto and Pirelli and found big differences in performance among models in the group.
UHP tires are designed to offer tenacious grip and superior handling. Once only found on high-end sports cars, they are now on a wider variety of cars, including sports sedans and more-affordable sports cars such as the MazdaSpeed3 and Saturn Sky.
UHP tires are Z-rated, meaning they're capable of sustained speeds of 150 mph or more, and they often come in wheel diameters of 17 inches and up. As a trade-off for grip and handling, these high-end tires can be hard-riding and quick-wearing, and the summer tires are virtually useless on snow or ice.
Consumer Reports recently rated the Michelin Pilot Sport PS2 and Pirelli P-Zero best overall in tests of 21 different ultra-high-performance summer tires, with both models achieving "excellent" scores.
Consumer Reports also tested a group of 15 different all-season, ultra-high-performance tires. In that group, CR rated the Falken Ziex ZE-912 and Nitto Neo Gen ZR best overall - again, with "excellent" scores.
The Michelin Pilot Sport PS2 achieved an overall score of 85 points in Consumer Reports' testing, barely outpointing the Pirelli P-Zero. Both tires provide stellar dry and wet grip and handling. The Michelin had a slight edge in CR's tests for hydroplaning resistance, while the Pirelli had an edge in dry and wet handling.
There was a near-tie, too, in CR's tests of the all-season, ultra-high-performance tires. A fraction of a point separates the Falken Ziex ZE-912 from the Nitto Neo Gen ZR. After scores were rounded, both finished with 85 points overall. The Falken and the Nitto offered impressive wet and dry braking. While only fair in snow, these all-season tires still are far better on wintry roads than those models made specifically for summer use.
Historically, tread life has been a low priority for UHP tires, and many don't carry tread-wear warranties. Most UHP tires still wear more quickly than lower-speed-rated counterparts, with wear varying from model to model, making that a factor to consider when deciding which of two similar models to buy.
How to choose
No tire does it all. You might get longer-wearing tread, for example, at the expense of grip. Generally, stick with the type of tire that came with your car, and keep these tips in mind:
¢ Safety first. Concentrate on tires with high CR scores for handling, braking and hydroplaning, and consider factors like ride, comfort, noise, tread wear and rolling resistance as tiebreakers.
¢ Be aware of tire warranties. Warranties offered with most tires are prorated - the more miles on the tire, the less credit you get on a replacement. And most warranties don't cover damage resulting from potholes or other road hazards.
¢ Shop around. Tire prices vary by region, retailer or even the price of raw materials. Check independent and chain tire stores, online or mail-order stores, car dealerships, department stores and shopping clubs. Find out whether the price of the tires includes mounting and balancing.
¢ Buy fresh. Don't purchase tires that are more than a few years old. To check the age, look at the tire's sidewall for a designation beginning with DOT, for Department of Transportation. The last four digits indicate the week and the year of manufacture. For example, 3306 means the tire was made during the 33rd week of 2006.
¢ Winterize wisely. Mounting just two winter tires is asking for trouble. If you need winter tires, mount them on all four wheels to maintain balanced handling and secure grip. Switch back to summer tires after the cold season. True winter tires have a symbol with a mountain and snowflake on the sidewall. "Mud and snow," or "M&S;," is not a designation of winter-tire performance.
Visit the Consumer Reports Web site at www.consumerreports.org.
Copyright 2018 The Lawrence Journal-World. All rights reserved. This material may not be published, broadcast, rewritten or redistributed. We strive to uphold our values for every story published.