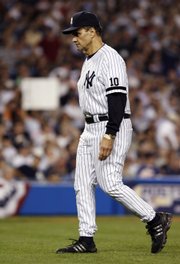 New York — Joe Torre sat in front of a media assemblage late Monday night, his eyes moist, and spoke in a postgame news conference, something he has done thousands of times in a New York Yankees uniform.
He wouldn't address the biggest topic head-on. But he seemed at peace with his fate: Barring a change of heart by George Steinbrenner and his baseball lieutenants, Torre will never manage another game for the Yankees. The Yankees' principal owner said as much.
"I'm not going there," Torre said moments after the Yankees were knocked out of the playoffs with a 6-4 loss to the Cleveland Indians in Game 4 of an American League Division Series. "This has been a great 12 years, whatever the hell happens from here on out. I'll look back on these 12 years with great, great pleasure, based on the fact that, a kid who had never been to the World Series except for seeing my brother play in the '50s, getting to six World Series. ...The 12 years just felt like they were 10 minutes long, to be honest with you."
Given Steinbrenner's fury, a final decision is expected shortly. The Yankees quickly could hire bench coach Don Mattingly to replace Torre, although that would violate Major League Baseball's mandate concerning the inclusion of minorities. Joe Girardi, Tony Pena, Tony La Russa and Bobby Valentine are other potential candidates.
"I'm going to sit down with ownership and have a discussion about '08," general manager Brian Cashman said about Torre's job status. "Once I do that, I'll be in a better position to discuss that."
Torre's job security was already an issue when the Yankees kicked off their postseason, but it graduated into a full-blown hullabaloo when Steinbrenner told The Bergen Record, in a story published Sunday: "His job is on the line. I think we're paying him a lot of money. He's the highest-paid manager in baseball, so I don't think we'd take him back if we don't win this series."
The Yankees responded by winning Sunday's Game 3, 8-4, but Monday night's loss likely sealed Torre's fate.
After the game, Torre's longtime players defended him.
"Everyone knows that I love Mr. T," captain Derek Jeter said. "He's the best, in my opinion. Every season, you're always asking if this is his best year. This by far is probably his best year, which is probably difficult to say because of the success he's had. It goes without saying that I support him."
"I don't think I need to tell (Steinbrenner) anything about Joe," said Andy Pettitte, a potential free agent. "He knows what Joe has done year and what he's meant to this franchise. But it's New York, and I know The Boss expects a lot out of us. Obviously, I hope Joe stays and he'll be here and manage forever."
In the eighth inning Monday night, when Torre went to converse with reliever Jose Veras, the fans began chanting, "Joe Torre! Joe Torre!" They repeated it when Torre lifted Veras for Mariano Rivera, and when Torre returned to the Yankees' dugout after the maneuver, the fans sitting directly behind the Yankees' dugout offered him a standing ovation. Torre, staring at the ground, didn't acknowledge the salute.
"These fans are very special," Torre said. "You can feel their heartbeat."
Torre declined to say whether he would be interested in another managing job, although he said he didn't intend to go away and do nothing.
Copyright 2018 The Lawrence Journal-World. All rights reserved. This material may not be published, broadcast, rewritten or redistributed. We strive to uphold our values for every story published.