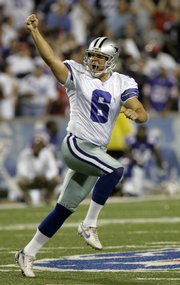 Orchard Park, N.Y. — Tony Romo is nothing if not resilient. And because he didn't let four interceptions in the first half, two returned for touchdowns, destroy his night, the Dallas Cowboys pulled off a stunning comeback victory.
The Cowboys scored nine points in the final 20 seconds Monday night, with Nick Folk's 53-yard field goal as time expired giving them an improbable 25-24 victory over the Buffalo Bills.
"Oh, it's great," Folk said. "It shows you how good we can be and what we can do if we don't make mistakes. And even if we do make mistakes and we stick together as a team, we still stay in the game."
Romo, after being intercepted five times and also losing a fumble, drove Dallas (5-0) 80 yards and hit Patrick Crayton with a four-yard TD pass with 20 seconds remaining. The two-point conversion try failed when Jabari Greer stripped Terrell Owens of the ball in the end zone.
But Tony Curtis recovered the onside kick and after two completions, Folk nailed his fourth field goal, shocking the sellout crowd that came to celebrate the first Monday night home game for Buffalo (1-4) in 13 years.
"I think our team, outside of me, played an outstanding football game," Romo said. They dug me out of it. It was tough to grow through that, especially on Monday night.
"No one is going to care when it's all said and done how you won the game."
And his recollection of all the picks?
"Too many to remember," he said with a smile.
It was the second last-second loss on a field goal this season for the Bills; Denver did almost the same thing in the opener.
"It was embarrassing, embarrassing," Bills receiver Lee Evans, on the verge of tears, kept repeating in the somber locker room. "We had opportunities to put the game away, put some points on the board, give us a little more cushion. Couldn't do it. It's embarrassing."
The win kept the Cowboys as the NFC's only unbeaten team heading into a megamatchup with 5-0 New England next week in Texas Stadium.
This latest victory was one of the most incredible in the Cowboys' illustrious history. Buffalo made nearly all the big plays, including interceptions for TDs by George Wilson and Chris Kelsay and a 103-yard kickoff runback by Terence McGee.
Just like in the early 1990s, when the great Bills teams that made four straight Super Bowls twice lost to Dallas in the title game, this one also would go the Cowboys' way.
Copyright 2018 The Associated Press. All rights reserved. This material may not be published, broadcast, rewritten or redistributed. We strive to uphold our values for every story published.