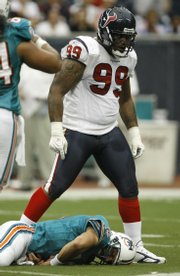 Davie, Fla. — Thanks to a conflict in sports schedules at the Trent Green household, his wife was spared the scary sight of him face down and motionless on the field in Houston.
When the Miami Dolphins quarterback was knocked unconscious by a severe concussion that could end his career, wife Julie was back home in South Florida at a tennis match with their children.
"She was listening to the game with an earpiece, but she didn't have to sit and watch," Dolphins coach Cam Cameron said Monday. "By the time she got home to see it, he was off the field, so that's a blessing."
Green's concussion was diagnosed as grade three, the most severe, and he'll undergo further tests to determine his future. He has been ruled out of Sunday's game at Cleveland, and Cameron declined to discuss the possibility the injury will force the 37-year-old Green to retire.
"I don't think we really know the full extent, because there are some ongoing tests," Cameron said. "Right now I just think there are too many unknowns."
Cleo Lemon, who replaced Green at Houston, will make his second NFL start against the Browns. Second-round draft pick John Beck becomes the backup.
The loss of Green is another blow in a season where little has gone right for the winless Dolphins and their first-year coach.
Miami and St. Louis are the NFL's only 0-5 teams. The Dolphins were beaten 22-19 Sunday on a last-second 57-yard field goal, extending their losing streak to eight games over two seasons, which matches the franchise record set in 1967.
"When you're losing, it's a struggle," kicker Jay Feely said. "It's tough to come in to work. It's tough to work hard. You find out a lot about the players on your team, because you see the guys who are going to quit, and the guys who are going to keep working hard."
The latest loss was mitigated by relief that Green wasn't more seriously hurt.
He took a knee to the head blocking 315-pound tackle Travis Johnson on an end-around, then crumpled to the ground. Teammates kneeled in prayer while medical personnel attended to Green, and he was strapped to a stretcher before being carted away to a hospital.
But he flew home with the team, and Feely said it was difficult to tell he had been hurt.
"I was amazed at how well he felt and how coherent he was," Feely said. "He was talking the whole way on the plane flight home."
Still, Green's second concussion in 13 months leaves his return in doubt.
A severe concussion in the 2006 opener with the Kansas City Chiefs sidelined him for eight games. He considered retirement but said neurosurgeons and neurophysiologists told him he faced no increased risk of Alzheimer's or dementia if he came back.
Now Green must revisit the subject.
"Our medical staff is coordinating further evaluation and testing for me this week," he said in a statement. "I want to thank everyone for their expression of concern over the last 24 hours, especially my teammates and coaches."
Green joins a long injury list for Miami. Also sidelined Sunday was rookie center Samson Satele, and the Dolphins have yet to reveal the severity of his neck injury. Free safety Cameron Worrell hurt his shoulder, the latest injury at a position where Miami has started a different player every week.
Copyright 2018 The Associated Press. All rights reserved. This material may not be published, broadcast, rewritten or redistributed. We strive to uphold our values for every story published.