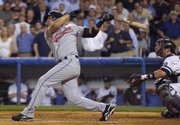 New York — So it all came down to the Cleveland Indians' superior pitching: C.C. Sabathia, Fausto Carmona and, of course, Paul Byrd.
You probably thought Byrd was the weak link in the cast-iron chain. Think again. Byrd was the winning pitcher in a 6-4 victory over the New York Yankees on Monday night at Yankee Stadium, propelling the Tribe into the American League Championship Series against the Boston Red Sox that begins Friday at Fenway Park.
In winning the AL Division Series three games to one, the Indians' all-around pitching superiority - bullpen, too - was more than a match for the Yankees' powerful lineup.
"It was Paul Byrd all the way for us," Indians manager Eric Wedge said. "Today, he controlled the ballgame. He was aggressive, and he made pitches when he had to."
Byrd was led into the press room postgame Sunday, but there was little interest in him among the media.
"There were only two questions," Byrd said. "Did I think C.C. (Sabathia) should start, and how would I feel if he did. I walked out of there like a loser. I told me wife, 'I think I'm a pretty heavy underdog.'"
The Tribe offense did enough to prevail Monday night, but it wouldn't have hurt to mix in another run or two after the fourth inning. The Indians stranded six runners from the sixth through the ninth, two in scoring position.
Joe Borowski got his first chance to save a game in the series and did so. It wasn't clean - Bobby Abreu homered - but Borowski retired Derek Jeter, Alex Rodriguez and Jorge Posada.
Yankees manager Joe Torre tried to beat the odds by starting Chien-Ming Wang on only three days' rest. The noble experiment - Torre had little choice - lasted three batters into the second inning.
"Wang looked like he was throwing hard, but he was getting the ball up," Torre said. "Usually you can tell early with him. If he keeps the ball down, he'll get ground balls, but he didn't get many ground balls."
Wang gave up two runs in the first on Grady Sizemore's leadoff homer and Jhonny Peralta's RBI single. Franklin Gutierrez and Casey Blake began the second with singles, and Kelly Shoppach was hit by a pitch to load the bases, signaling the end of the line for Wang.
"We wanted to build momentum," Sizemore said of his home run. "We wanted to jump on them early and take the wind out of their sails."
Wang was replaced by Mike Mussina, whom Torre had rejected when contemplating a starter. Mussina hadn't pitched for 10 days, and in his last start of the regular season, he was shelled for six runs in five innings.
But he still can do one thing that baffles many Tribe batsmen: throw tantalizingly slow curveballs. For the most part, Mussina got away with his smoke-and-mirrors act. The first batter whom he faced, Sizemore, bounced into a run-scoring double play, and Asdrubal Cabrera blooped an RBI single to center to hang another earned run on Wang.
However, Mussina kept the Indians in check until the fourth, when Victor Martinez singled home two runs. Mussina stayed around for 4 innings, giving up two runs and letting one in for Wang.
Copyright 2018 The Lawrence Journal-World. All rights reserved. This material may not be published, broadcast, rewritten or redistributed. We strive to uphold our values for every story published.