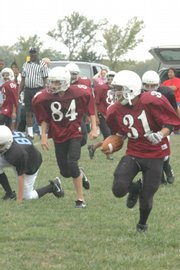 They wear the colors and school names across their jerseys. But even though the city's junior high seventh-graders find themselves out of Lawrence Youth Football's lower leagues, they are not quite in the realm of junior high eighth-graders and freshmen.
Hanging between these positions (the Lawrence school district doesn't sponsor seventh-grade football) leaves many of those who play in the LYF-sponsored league in a bit of a transitional place.
Gone are the familiar colors of the LYF teams many played for, as well as the teammates who were with them from the start.
Instead, the seventh-graders are greeted by new teammates, new coaches and new expectations.
Andrew McNish, a seventh-grader at South, has played in LYF since he was in the second grade and found that playing in the seventh-grade ranks was quite a change.
"It was a lot harder," McNish said. "It's a lot more disciplined, and the coaches want more from us."
For some parents and grandparents, that isn't necessarily a bad thing.
Merle Anderson, Sr., whose grandson, Demarco Bobo, plays for West, said he saw the merits of the players' new experience.
"It really helps them to kind of expand themselves," Anderson Sr. said, "Not only in football, but in other ways. It gives them some discipline and helps them be more focused."
While McNish experienced differences this year, other players find themselves playing not just in a different football environment, but a football environment period.
South seventh-grader Ryan Schroeder never played football until this season, and his reasons were simple.
"I just wanted to have fun," Schroeder said.
But even though they're having fun, often times those seventh-graders look around and see something's missing. They don't have the cheerleaders and home-field advantage older junior-high players enjoy; they play at Youth Sports Inc.
But in the minds of the seventh-graders and their parents, that doesn't keep them from having school pride.
"I think they are kind of ambassadors for their schools," Janis Cobbs, mother of T.J. Cobbs who plays for West, said. "They wear the colors and come out to play."
Both Schroeder and McNish, like many seventh-graders playing football, plan to take a shot at eighth-grade football. And along with the discipline and focus, this phase for the boys has given them perhaps the most important aspect of playing football, as they move on.
"It feels good," Schroeder said. "It feels good to be a part of a team, to play for something meaningful and represent the school. It just feels good."
Copyright 2018 The Lawrence Journal-World. All rights reserved. This material may not be published, broadcast, rewritten or redistributed. We strive to uphold our values for every story published.