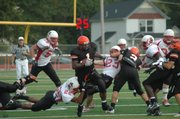 Baldwin City — Derek Doerfler seemingly had a better chance of winning the lottery without buying a ticket. A 62-yard field goal into a gusty crosswind? Hah. No way.
Do you believe in : ?
Doerfler's desperation kick sailed through the uprights with only 39 seconds remaining and lifted Baker to a stunning 15-13 come-from-behind football victory over William Jewell.
"Phenomenal : absolutely phenomenal," Jewell coach Fran Schwenk said after Doerfler's moon shot Saturday at Liston Stadium. "That young man deserves to be national player of the week."
Four earlier Doerfler field goals had staked Baker to a 12-0 lead, but quarterback Benny Palmer guided the Cardinals to a pair of fourth-quarter touchdowns and a 13-12 lead with 5:40 remaining.
The Wildcats had plenty of time to mount a comeback, and they moved crisply to the Jewell 38-yard line as time continued to slip away.
Then, when quarterback Mack Brown was sacked for a seven-yard loss, Baker coach Mike Grossner faced a fourth-and-18 situation with the 'Cats a long, long 45 yards from the end zone.
Plan A was go for it. Plan B was to have Doerfler attempt a 62-yard field goal.
"I knew he had enough leg," Grossner said, "but with that crosswind, I didn't feel he could make it."
Nevertheless, after listening to Doerfler and holder Ryan Smith lobby for the field-goal try, Grossner relented.
"It's hard to believe, but he hits them from 70 yards in practice on a good day," Smith said. "I had all the faith in the world in him."
So when play resumed, Smith placed Aaron Whittle's snap perfectly on the left hash mark at Baker's 48-yard line, and Doerfler unloaded his boot high into the breeze.
"I hardly watched it," Grossner said. "I just didn't think it would make it."
Soon, however, it was apparent Doerfler's blast was long enough. Still, it appeared to be headed to the right.
"It seemed like it was in the air forever," Doerfler said with a smile.
Slowly, though, the crosswind pushed the ball through the uprights, and it landed on the running track behind the east goal posts.
"It was a difficult day because of the crosswind," said Doerfler, a former BU soccer player who had to talk Grossner into letting him join the football team. "But I do it in practice all the time. You've just got to put it up there."
Doerfler, a 5-foot-11, 213-pound junior from Lee's Summit, Mo., broke the school distance record of 57 yards he had set earlier in the season. His five field goals - the others went 20, 27, 32 and 53 yards -also were a school record.
The NAIA record for most three-pointers in a game is six, while the distance record is 69 yards set back in the mid-1970s when tees were legal.
Except for Doerfler's right leg and a 114-yard rushing performance by tailback Richie Bryant, the 'Cats spun their wheels on homecoming.
"It would have been a sour taste," Grossner said. "There were many times we could have scored a touchdown, but we have faith in Doerfler. He's phenomenal."
Phenomenal, but not perfect. He was 5-for-6. He missed his first attempt, a 31-yarder, that was wide-left early in the second quarter.
"I didn't check the wind on that one," Doerfler said, "and I left it out too far."
Copyright 2018 The Lawrence Journal-World. All rights reserved. This material may not be published, broadcast, rewritten or redistributed. We strive to uphold our values for every story published.