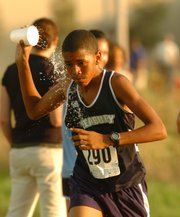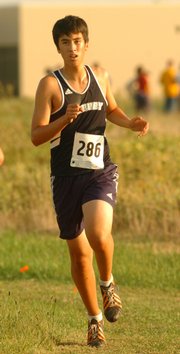 Eudora — Seabury Academy boys cross country didn't put up the times it was looking for at the Eudora Invitational Cross Country meet Thursday.
But as Seahawks coach Eric Nelson pointed out, it was just the Eudora Invite.
"I expected us to be a little bit faster today. These kids shouldn't hang their heads though," Nelson said. "If we don't make the state meet, then I'll be concerned, but I still have two weeks to get this team to peak, and we're not peaking yet. We'll go a minute faster than we did today, at regionals."
Nelson added: "I think this team is going to peak in two weeks. I think this is a tired team who plays football and who does the play. Kids play multi-sport here. We were a little slow today, but I'm not going to panic. In two weeks we'll be racing against other kids who have three things to do after school and we'll see what happens."
Top boys runner Bill Butler, who finished 40th with a time of 20:46, is looking toward next Thursday's meet at Burlington - their last meet of the season - as his last hurrah.
"I was trying to get top-25 and run in the 19's and just get a foundation going for regionals, so I guess I'll just try to do it in the next race," Butler said. "Regionals is in two weeks, and this is my senior year, so it's now or never."
While Seabury didn't run any girls in the varsity race, several area girls placed in the top-10.
Perry-Lecompton's Katie Hirsch had a third-place finish at 17:06 as the top area girls runner. However, her team had to settle for a second-place medal.
"We were expecting to place, and second works pretty well for us," Hirsch said. "We were excited about it. We were expecting De Soto to do really well, and we knew Eudora was going to be tough, but everyone ran really well so second works for us."
Eudora was definitely tough - and dominant - in its home meet.
The EHS girls squad tallied 42 points with another 54 points between them and Perry-Lecompton.
"That's definitely the most points that we've won by all season," said Emily Ballock, who was the top Cardinals runner with a fourth-place time of 17:13. "We've been running well as a team. We have some new girls coming on and finishing in the top-five and really helping us out."
While Hirsch just had one other teammate in the top-10 - Maggie Kuhlman with a 10th-place finish at 18:23 - Ballock had teammates Liz Hoese, Kaya Riemann and Lauren Colman join her as a top-10 finisher.
Hoese, with a time of 17:44, cross the finish line in sixth place as Riemann (18:14) and Colman (18:21) came in eighth and ninth respectively.
Wellsville's Derek Poor was the top area boys varsity runner with a fifth-place time of 17:56.
Copyright 2018 The Lawrence Journal-World. All rights reserved. This material may not be published, broadcast, rewritten or redistributed. We strive to uphold our values for every story published.