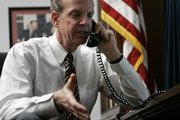 Washington — Kansas Rep. Jerry Moran has been famously indecisive about whether to seek higher office in Kansas.
But lately, Moran has been hinting to key GOP supporters that he may soon be ready to launch a statewide bid. In a fundraising letter earlier this year, Moran sought contributions in case he gets the opportunity to run for higher elective office.
While Moran was not specific, he would be in line to run for either governor or U.S. Senate, when both offices will be open in 2010.
Unlike in previous years, when Moran gave Republicans hope he would run for governor - only to decide after extended deliberations that he wasn't ready - observers say Moran appears more serious this time.
That would please Republicans who repeatedly have tried to persuade Moran to move up the political ladder.
"If he is going to do something in 2010, he has to tell people now and be very solid about it," said Tim Shallenburger, former chairman of the Kansas Republican Party.
For now, Moran will say only that he's focused on his current job in the House and winning re-election to his seventh term next year in the state's sprawling 1st District, which covers all of Western Kansas. He has "no concrete plans" to seek another office, yet concedes it's something he will think about when the time is right.
"If I concluded this was the right thing for my family and if I thought I could actually contribute to improving the quality of life for Kansans or America, I would take a look at a race down the road," Moran said in an interview.
Timing is crucial
In early 2005, Moran initially said he wasn't interested in challenging Democratic incumbent Gov. Kathleen Sebelius as she prepared to seek a second term. Two months later, Moran told Republicans he hadn't made up his mind and was reconsidering. Finally, in August 2005, he announced that he would not run because the timing wasn't right for his family.
"He waited and waited and waited and kind of put us in a box because he got out relatively late and kind of kept everybody in check up until then," Shallenburger said.
That had the effect of freezing the field of other potential candidates, who put off their own campaigns while they waited for Moran to make a decision.
Moran defended his actions, saying he reconsidered under considerable pressure.
"I listened to a lot of people who wanted to give me advice and I listened and made a decision and announced that decision a year and a half before the election," Moran said.
But Moran pledges to be more decisive next time.
"There won't be an exploratory committee," he said. After the 2008 election, "I'll decide that I'm running for re-election, I'm retiring, I'm running for governor or I'm running for the Senate. It's, 'Here's the story and I'll go out and work to succeed."'
He noted that both his daughters will be in college by the time he may be ready to launch a statewide campaign. Back in 2005, Moran's chief concern was that running a gubernatorial campaign would require him to spend more time away from home. Sebelius also had high approval ratings and a head start in raising money for the race.
Popular politician
Moran is highly popular in his district and has cruised to easy re-election victories since he took office in 1996. Many Republicans view him as a candidate who can unite the GOP's long-feuding conservative and moderate wings.
Joe Aistrup, chairman of the political science department at Kansas State University, said he thinks Moran is likely to seek the U.S. Senate seat that will open at the end of Republican Sam Brownback's second full term in 2010. Brownback has said repeatedly that he won't seek another term.
"His indecision regarding the governorship was maybe attached to his real desire to be a U.S. Senator," Aistrup said. "So it doesn't surprise me that he's sent out this letter. Anytime they act that early, the object is to scare off all people who may think they want to get in the race and also try to corner the market in terms of campaign contributions."
Moran should expect to face some competition for either post. Kansas Secretary of State Ron Thornburgh is already considering a run for governor in 2010. And Kansas Republican Rep. Todd Tiahrt, of Wichita, may be interested in running for Brownback's Senate seat, though he says he's just focused on doing his job in the House. Tiahrt also may be hesitant to lose his coveted position on the influential House Appropriations Committee.
Moran's financial statement for the first half of the year shows that he has about $1.4 million cash on hand, more than any other Kansas member of the U.S. House.
Copyright 2018 The Associated Press. All rights reserved. This material may not be published, broadcast, rewritten or redistributed. We strive to uphold our values for every story published.