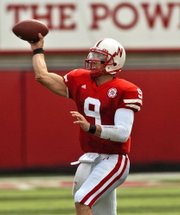 The rise of other schools has lessened the magnitude of Saturday night's Nebraska-Missouri matchup, long viewed as a battle to decide the Big 12 North. But it's still plenty big.
For the No. 17 Tigers, long among the conference also-rans, it's an opportunity to step up. Missouri (4-0) is undefeated entering Big 12 play for the second straight year, but last year finished 8-5 after a 6-0 start.
Missouri's rating is its highest since 1998, prompting a late-night national television slot and the school's first sellout crowd since 2003, when it beat Nebraska to end a 24-game losing streak in the series.
"It's a big game and we can't wait," running back Tony Temple said this week. "We might as well just go play now."
The Tigers will be trying to win their third straight against the Cornhuskers at home, and they carry a higher ranking in the matchup for the first time since 1969. They've yet to win the North, far from a given no matter what happens on Saturday judging by recent successes by Colorado and Kansas State.
Still, it would be a big step. No. 25 Nebraska has an eight-game winning streak against North opponents.
"You can talk about it all you want, but until you do it, until you get it done, then we haven't changed," Missouri coach Gary Pinkel said. "I like to think we are better, I like to think we're more mature, that we can win some of these fourth quarter games, because you're going to have to do that."
Nebraska (4-1, 1-0) had some early shaky outings, notably needing a rally to beat Ball State by one point. The Cornhuskers have been outgained each of the last four weeks, surrendering 610 yards to Ball State. Last week Iowa State ran 102 plays - the most ever against Nebraska - in the Huskers' 35-17 win.
"I think anytime you win restores confidence in what you're doing," coach Bill Callahan said. "Winning grows confidence and teams get momentum and get on a roll."
Missouri has been tough to beat at home, going 21-6 since 2003. Plus, an open date last week gave the Tigers an extra week to prepare. Quarterback Chase Daniel said it's almost been "annoying" that he knows so much about this particular opponent.
"We feel like we have a great home-field advantage and it helps us, it really does," Daniel said. "I think people understand that and they'll come out in full force."
The game shapes up as a shootout. Missouri is fifth in the nation in total offense with 544 yards per game with a 42-point average, and Nebraska is 18th with 468 yards and a 36-point average.
Missouri has surrendered 100 points, Nebraska 133.
"If it comes down to that, if that is the shape that the game takes, then I'm all for it," Nebraska quarterback Sam Keller said. "It doesn't really matter how it happens, as long we play well and come in prepared and get ourselves a victory."
Nebraska trailed 10-0 in the second quarter before overcoming Iowa State to win its conference opener for the 31st time in 32 years. The Cornhuskers have beaten a ranked opponent on the road each of the last two seasons.
"What I think is important right now is the rate of improvement relative to everyone else," Callahan said. "If we can maintain that standard, week-in and week-out, that's all I'm looking for."
Whatever happens will not be a big surprise for Pinkel, not with all the upsets already in college football.
"All my friends say to me, 'I can't believe you do this for a living,"' Pinkel said. "Shoot, after Saturday, I was looking at myself in the mirror saying, 'I can't believe you're doing this for a living.' It's unbelievable."
Copyright 2017 The Associated Press. All rights reserved. This material may not be published, broadcast, rewritten or redistributed. We strive to uphold our values for every story published.