Photo Gallery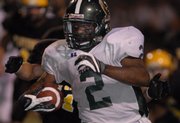 FSHS vs. SM West
Overland Park — Free State High didn't exorcise its demon. The Firebirds folded, spindled and mutilated it.
Chucky Hunter rushed for two touchdowns, and Craig Rosenstengle tossed two touchdown passes as Free State staggered previously unbeaten Shawnee Mission West, 32-0.
That's right. Thirty-two to zip over the stunned Vikings, a team that had ended the Firebirds' football season in each of the last three years and owned five straight victories over them.
"We've never beaten them since I've been here," said Rosenstengle, a senior quarterback who played wide receiver last season, "so it feels good."
That goes without saying, but to punish the proud Vikings like they did Thursday night at SM South District Stadium wasn't even in the Firebirds' wildest dreams.
"Of course not," senior linebacker Ryder Werts said. "We were going against the No. 1 team in the league. But I'm very happy. Don't get me wrong."
Free State posted a tenuous 6-0 lead after the first quarter, then exploded for three touchdowns in the second quarter - two on Rosenstengle passes of 65 yards to Marcus Holman and 35 yards to Preston Randolph.
"We knew we could play with these guys," Rosenstengle said. "Our line did a great job. We pounded them."
SM West was leading the Sunflower League in most defensive categories, including surrendering a mere 8.2 points a game, but the Firebirds showed why they lead the league in scoring.
"We set the tone," Werts said. "We hit 'em all game."
Free State's fired-up defenders held SM West to just 112 yards of offense. The Vikes were inside the Firebirds' red zone only once. That was early in the third quarter when they reached the Free State 15-yard-line before a holding penalty pushed them back, and they ran out of downs.
"I knew if we didn't play intimidated that we'd play well," Free State coach Bob Lisher said.
Meanwhile, the Vikings seemed helpless without running back J.D. Steffen, the league's second-leading rusher who did not play because of an ankle injury suffered last week against Leavenworth.
"That's a big part of their offense," Lisher said of Steffen, "but I don't know if he'd have made that much of a difference tonight the way we played on defense."
SM West had 19 rushes and the longest was for 10 yards. Sophomore quarterback D.J. Balazs completed 4-of-13 passes for 63 yards, including a 29-yard toss to Danny Herring that was far and away the Vikes' biggest play of the night.
Meanwhile, the Firebirds pounded away with their 1-2 punch of Hunter and Rosenstengle.
Hunter, a 5-foot-9, 185-pound junior, carried 23 times for 181 yards and easily eclipsed his career-yardage high of 128 yards established last week against Shawnee Mission East. Hunter's broken-field 66-yard run set up the Firebirds' first score. Later, he would score twice and hike his league-leading touchdown total to 12.
In addition to the two TD passes, Rosenstengle ran for a score while gaining 82 yards in 12 carries. He threw only six aerials, and all were in the first half.
SM West and Free State shared the Sunflower League title last season, each with 6-0 records. The two schools did not meet in the regular season, but the Vikings spilled the Firebirds, 31-14, in the Class 6A state semifinals, knocking them from the unbeaten ranks.
This time it was the Firebirds (4-2) handing the Vikings their first loss, leaving Shawnee Mission Northwest as the only unbeaten team in the Sunflower League. The Cougars can clinch sole possession of the league crown if they knock off Lawrence High tonight at Haskell Stadium.
Free State can't finish any higher than third in the standings computed from the first six games Sunflower League schools play against each other, but the Firebirds earned a heckuva consolation prize by knocking the yellow-and-black clad gorilla of their backs.
Copyright 2018 The Lawrence Journal-World. All rights reserved. This material may not be published, broadcast, rewritten or redistributed. We strive to uphold our values for every story published.