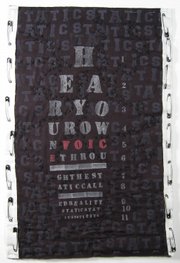 Linda Frost often runs into misconceptions about her artwork.
"I feel like when I tell someone I'm a quilter, invariably the response I get is, 'Oh, my grandmother did that,'" she says. "I really like old quilts, and I appreciate their form and function. But I think, 'You don't really have a good picture of what I'm doing.'"
Frost, a Lawrence resident, is a member of Kansas Art Quilters, a group that started in Kansas in 2001 and now counts more than 50 members in 13 states. The organization is dedicated to promoting textile art in quilt form.
The group's sixth annual traveling exhibition, "Kansas Art Quilters: Altered Views," is on view through Oct. 27 at Unity Gallery, 900 Madeline Lane. An opening reception for the show will be from 5 p.m. to 7 p.m. Friday.
Frost, who coordinates the group's exhibitions, has a couple of pieces in the show. All of the more than 30 works by roughly 16 artists are 30 inches square or smaller.
These are "never going to be on a bed and have a lot more form than function," Frost says. The pieces often contain social commentary or personal stories.
Group members quilt mostly by machine, although some hand quilting is done using thicker thread or yarn to add texture or emphasis, Frost says.
She says not many venues cater specifically to textile art, but more galleries are opening their arms to the form.
"I think there's a couple of groups, like Studio Art Quilt Associates and the Surface Design Association, that have really worked hard to get the word out that maybe this would be an interesting art form to exhibit," Frost says.
After its stay in Lawrence, "Kansas Art Quilters: Altered Views" will travel to the Dane G. Hansen Museum in Logan and the Coutts Memorial Museum of Art in El Dorado.
Copyright 2018 The Lawrence Journal-World. All rights reserved. This material may not be published, broadcast, rewritten or redistributed. We strive to uphold our values for every story published.