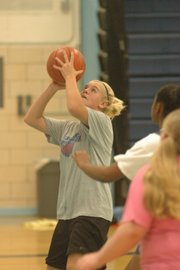 The volleyball nets hardly have been down since Saturday's season-ending freshman tournament at Gardner-Edgerton, and yet for some of those who participated in that sport there's little time to rest. It's basketball season.
On Tuesday, the first signs of girls basketball throughout the junior high ranks appeared as the West Warhawks took to the court for tryouts just days after the end of volleyball season. For those who just finished with volleyball, picking up a basketball was a quick turnaround.
"It was kind of tough," West basketball hopeful Paige Rothwell said. "There was a big difference in stopping volleyball and starting basketball. Luckily it comes pretty naturally for me."
For others among the 18 Warhawk hopefuls trying out, the start of the basketball season couldn't have come soon enough.
"I was real excited," West freshman Rachael Hodison said. "I've been waiting for the start of basketball for a long time."
Not only does Hodison enjoy playing basketball, but the start of this season - even though Tuesday was merely a tryout - means a fresh start for her.
"Last year we had a rough season," Hodison said. "I'm excited at the idea of coming out here and trying to win more games than last year."
That's one of the ideas that Warhawk coach Matthew Frost (who must trim Tuesday's 18 participants to 12) hopes to instill in the girls he will coach this season.
"At this age it's about getting them used to the idea of winning," Frost said. "These girls had a really tough season last year, so I think's important to get them in that mindset."
The Warhawks went 13-7 last year, and although the head coach still will not know what he has for a few weeks, he likes what he sees.
"They're playing hard," Frost said. "And they're excited, so that helps."
The Warhawks will begin their season Nov. 1 at Southwest Junior High.
Copyright 2018 The Lawrence Journal-World. All rights reserved. This material may not be published, broadcast, rewritten or redistributed. We strive to uphold our values for every story published.