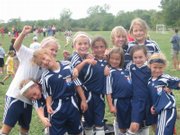 On Sunday, the fields at Lawrence's Youth Sports Inc. teemed with young athletes playing football as Lawrence Youth Football played its fourth week of games. But across the gravel roads of the complex, there were more athletes playing football, just not the American version.
The Kansas Cup All-Girls soccer tournament - presented by the Kaw Valley Soccer Association - brought 71 teams from around the region over the weekend to compete for championships in eight age groups. Teams from throughout Kansas, Missouri and Nebraska came to Lawrence in an attempt to capture some of the hardware.
Six of the Kaw Valley's own Force teams competed, along with three squads from the Kansas Soccer Academy, with the U-9 Kaw Valley Force and the KSA U-12 Gunners winning championships and two other squads making semifinal rounds.
Although the tournament might have been about the trophies, there were a number of positives to come from the event.
"We bring about 1,200 soccer players into town," tournament director Keith Meyers said. "With that comes the families, so it makes an economic impact."
The tournament, which also had games played at Langston Hughes and Lawrence Virtual School, gives the girls a chance to play tough competition. Both the Kaw Valley Force and Kansas Soccer Academy's teams play games in the Kansas City area against those local teams. The nature of the Kansas Cup gets the players away from playing the same teams again, giving them more opportunities for improvement, as well as giving them an opportunity to stay close to home.
"It's really a good opportunity for the players to play good competition," Meyers said. "And also it's a good competition with a short drive. When you talk competitive soccer, it involves hitting the road."
Along with the progression of soccer skills, the event helped players develop in other ways.
"One of the best things I saw over the weekend was the looks on some of the girls faces when they won," Meyers said. "They were so excited about winning."
At the same time, the players had to deal with the flip side of tournament play: losing.
"A lot of the games came down to penalty kicks," Meyers said. "And some of the goalies had the weight of the world on their shoulders. Some didn't come through and felt bad. But this helps the players learn to win as a team as well as lose as a team."
Copyright 2018 The Lawrence Journal-World. All rights reserved. This material may not be published, broadcast, rewritten or redistributed. We strive to uphold our values for every story published.