Photo Gallery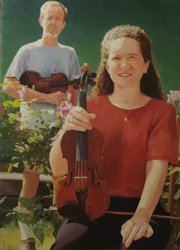 Paul Hotvedt's paintings
Past Event
with The Bopaphonics and Ardys and Bradford
When: Thursday, December 6, 2007, 6 p.m.
Where: Lawrence Arts Center, 940 New Hampshire St., Lawrence
Cost: Free
-->
-->
Between his freshman and sophomore years at the University of Wisconsin, Paul Hotvedt decided to travel abroad.
The fledgling artist and musician headed for his ancestral Norway, where he worked on a farm for a few months during the summer of 1975.
"I'd been playing in garage bands in Wisconsin, and just by chance I met a couple guys in this small town (Stranda) who said, 'We're playing at dances up and down the coast. It would be great if you joined us,'" Hotvedt recalls.
So the American lent his keyboard talents to the group, performing Elton John and Beatles covers to enthusiastic audiences.
"I can't remember the name of the band, but it was the '70s, so it might have been something silly like Plastic Rockin' Feelin'," he says.
"I remember the day I had to leave and go back to America; it was one of the saddest days of my life. I was standing there on a mountain road in the drizzling rain at four in the morning after we'd done a gig. You just make such wonderful ties with people when you play music. ... Performing music has got to be about the most intimate thing you can do with somebody."
Hotvedt has taken that intimacy one step further.
Starting Thursday, the Lawrence Arts Center will feature Hotvedt's exhibition "Sustaining Power: Portraits of Musicians." The 17-piece show includes the artist's meticulous paintings of the "personal network of musicians" that have touched his life with their playing.
"There were all these people I knew who were incredibly involved in music, as well as other aspects of life," says the longtime Lawrence resident. "They are more than musicians: They are doctors or professors or steam fitters. It seems that this media gives us so much energy. It helps us get through the day and get through our lives. We invest a lot of ourselves in it. I thought, 'I need to document this somehow.'"
The 51-year-old Hotvedt believes Lawrence is a place where the music and art community comfortably intermingle.
"Lawrence is a hotbed of that kind of thing. It's commonplace to find people who are visual artists and musicians," he says, citing such hybrids as Ardys Ramberg, Karl Ramberg, Roger Holden and Barry Barnes - all of whom are depicted in his collection.
Personally, Hotvedt claims he has a "dual life" within both mediums.
He says, "I've learned as much about painting from music as I have studying other paintings."
Keen observations
"Paul has many talents, among them painting and performing music, and he is one of those people who might have done anything with great success," says Rick Mitchell, LAC gallery director.
"I'm impressed with Paul's ability to keenly observe the world and then to show us something about it that only he could have seen."
For the paintings - which were rendered oil on canvas - Hotvedt took his time during the preparation phase.
He brought a digital camera to the residence of each of his subjects and snapped numerous photographs of them with their respective instruments. (There was an exception for three of the people who lived on the East Coast, who instead provided him with pictures.)
"I knew the paintings were going to end up in their homes - I was going to give these paintings to them - so I would interview people there. That way I would get a chance to look at how they live and how the portrait might look or feel in their house, and integrate that in the planning of the painting," Hotvedt says.
He then would examine the images in detail on his computer, paying particular attention to the composition of the shots.
"What's a good photograph and what's a good painting composition aren't the same thing. It has to do with the density of information," says Hotvedt, who for nearly 20 years has operated Blue Heron Typesetting in downtown Lawrence.
Each portrait took from a month and a half to two months to complete.
"I didn't want it to be merely abstract or suggestive of them," he says. "I wanted it to be very straightforward, like a 'put it on the wall and my grandmother would know it's me' portrait. ... Hopefully, you can see the story in their eyes and faces. I believe in the power of painting to be able to get that across."
Musical variety
Hotvedt ended up graduating from the University of Wisconsin before attending the Tyler School of Art (in Pennsylvania) and the Maryland Institute College of Art.
He currently teaches painting at the LAC.
Hotvedt admits he was always surrounded by music, which "runs real deep and real strong in my family." Early on he sung in choirs and played the euphonium before becoming versed in guitar, drums and keyboards.
Almost every one of his portrait subjects has collaborated with him musically at some point. Those attending Thursday's opening will witness another example of the art/music amalgam as nearly half of the musicians featured will perform live, often in combination with each other. Taking the stage are Hotvedt's band The Bopaphonics, Ian Ellis, Byron Wiley, Jill Brandenburg, Gloria Roach, Ernest Jenkins, Ardys Ramberg, Karl Ramberg and others.
"It's going to be a real variety show," Hotvedt says.
No word yet on whether Plastic Rockin' Feelin' will reunite for the occasion.
Copyright 2018 The Lawrence Journal-World. All rights reserved. This material may not be published, broadcast, rewritten or redistributed. We strive to uphold our values for every story published.