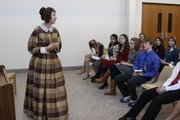 Lawrence High School history students on Thursday were taken back to the tense days of 1861 in Kansas.
"These are difficult times, my friends, but let us have faith," said author Diane Eickhoff, who portrayed Clarina Nichols, a 19th-century activist and pioneer who spent time in Douglas County.
About 50 Advanced Placement American history students asked questions of Eickhoff, a Kansas City, Mo., resident and a Nichols biographer.
The students had read "Revolutionary Heart: The Life of Clarina Nichols and the Pioneering Crusade for Women's Rights," and some have also done research projects on Nichols.
"This was a really a neat experience, and she is such a great speaker and so informative," said LHS junior Katelyn Curnes.
LHS history teacher Michael Ortmann said other than leading a riveting book discussion, Eickhoff provided insight into her research process for the book.
"This is absolutely phenomenal to have her here," Ortmann said.
Eickhoff dressed the part in a brown plaid dress and her hair in curls. During the first 30 minutes, she spoke to the students as if she were Nichols.
She talked about joining the Massachusetts Emigrant Aid Society in 1854 and eventually moving to Douglas County and later to Wyandotte County. Nichols, whose second husband was a newspaper editor, often wrote and lectured in support of temperance, women's rights and abolition.
On women's rights and suffrage, often the lines weren't drawn between men and women, she said.
"This was between progressive ideas and their opposition," Eickhoff said as Nichols.
In 1859, Nichols attended the Wyandotte constitutional convention and persuaded delegates to include several women's rights that were advanced for the era.
Eickhoff's book was chosen for Read Across Lawrence 2007, and she spoke at several events this fall related to the Lawrence Public Library project.
Copyright 2018 The Lawrence Journal-World. All rights reserved. This material may not be published, broadcast, rewritten or redistributed. We strive to uphold our values for every story published.