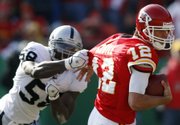 Kansas City, Mo. — A sore back kept quarterback Brodie Croyle out of practice a second straight day Thursday, and Kansas City might have to go with Damon Huard for Sunday's game against San Diego.
Croyle, a second-year pro and the Chiefs' quarterback of the future, started the last two games but got kneed in the back in the first quarter last week against Oakland. If he cannot practice today, coach Herm Edwards said, then Huard will start against the Chargers.
Huard started the first nine games for the Chiefs.
Edwards did not seem optimistic about Croyle's situation.
"I doubt it. We'll see," Edwards said when asked if he expected Croyle to practice on Friday, adding that if Croyle did not practice "it would be tough" for him to get ready for Sunday's game.
Croyle, who set passing records at Alabama despite a series of injuries, acknowledged it would be difficult for him to tell coaches he did not feel ready to play.
"I'll push it just as far as they let me push it," he said. "It's one of those situations where basically I have to listen to what they say. If they tell me I can go, and it looks like I can go, I can. If they tell me I can't, it (stinks), but I guess we'll just get ready for (next week's game against) Denver."
The injury happened on the Chiefs' second play from scrimmage on Sunday. Croyle now says the back was "pretty messed up for most of the game."
"I don't know if it was adrenaline or it just hadn't sunk in yet or what," he said. "They're going to have to tell me to come out. They're going to have to tell me not to play for me not to be out there."
Croyle's injuries in college included problems with both knees and a shoulder.
"The shoulder my sophomore year ... that was the only one that was contact-related," he said. "The funny thing about playing quarterback is everybody wants to talk about the injuries, talk about whatever. But if it was any other position, playing with a separated shoulder, it wouldn't be a big deal. If it was any other position talking about a sore back, it wouldn't be a big deal. But with the quarterback, everybody wants to analyze it."
Copyright 2018 The Associated Press. All rights reserved. This material may not be published, broadcast, rewritten or redistributed. We strive to uphold our values for every story published.