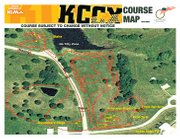 Bill Anderson had a revelation the other day.
At a local grocery store, Anderson strolled over to the magazine aisle and picked up a copy of Bike magazine. Inside was a feature on Jonathan Page, a three-time United States national champion in the sport of cyclocross who moved to Belgium to compete in the more-competitive races there.
"I saw that and knew at that time that we were coming out of the Dark Ages," Anderson said of his Dillons epiphany. "I mean, there was a magazine article on a guy on the other side of the world, a three-time national champion in cyclocross. And I was reading it in a store in Kansas."
Truth be told, cyclocross still is a fringe element of the larger niche sport that is cycling, but it is gaining fans and participants.
And if Anderson, a 46-year-old Lawrence native and lover of all things 'cross, was thrilled by mention of the sport in a relatively mainstream bike mag, imagine how giddy he'll be in two weeks, when the USA Cycling Cyclocross National Championships are contested just a few miles away.
The event will run Dec. 13-16 at Wyandotte County Park in Kansas City, Kan., not far from Kansas Speedway.
"We're so excited to have it in our back yard," Anderson said. "We have the homecourt advantage. We designed the course. We race the course. We planned and marketed it to come to Kansas to show cyclocross to the Midwest. It's incredibly exciting."
By "we," Anderson means he and his teammates on the Kansas City-based Team X Cycling club, which is serving as host for the event.
What is cyclocross?
Ask Anderson just what it is about cyclocross that's so addictive, and he can't really say.
But he has been all over the country as racer and spectator. Canada, too, and Mexico. Europe.
"You go out, and it's frustrating," Anderson said of competing in cyclocross. "It's dirty. It's cold and wet, and you go out there and the first time you're asking yourself, 'What am I doing out there?' Then, for some reason, you go back. You finish a race and you're like, 'Gosh, I'm so glad it ended. I can't wait to do it again.'"
And if that's not reason enough for somebody to swing a leg over a 'cross bike and give it a go, there's this testimonial:
"It's painful," Anderson said. "But you get into rhythm, and the course is flowing. You're with a group, you're in the lead. Your tires are hooking up right. You're not too cold or too hot. You just start to taste the blood in your lungs, but you're not overwhelmed : "
OK, Anderson might have lost a few converts with the blood-in-the-lungs line, but you get the point.
What, though, is cyclocross?
Anderson describes it as a cross (get it?) between road racing, mountain biking and steeplechase.
'Cross races are held off-road, though there might be short paved portions on typically short courses.
The bikes look like sleek road bikes, but they have wider tires and brakes better able to cope with the mud and bad elements that go along with the season that runs from September to February.
Courses also offer obstacles - some natural, some man-made - that force cyclists to dismount, shoulder their bikes, leap over the barriers and remount their bikes, all at speed.
A 'cross course typically is easier to cover than a mountain bike course, but the pace is high. Events usually last an hour or less.
"It's tough," Anderson said, "but it's very compelling."
'Cross on the rise
Anderson said he started competing in and following cyclocross back in the '70s, when it very much was in its "grass-roots" stage.
"I had a mentor that was interested in it," Anderson said, "and followed him blindly into the woods."
Back then, most equipment was suspect and participation low.
Today, most major bicycle manufacturers have at least one cyclocross-specific bike in their lineups, and events draw more and more riders and spectators.
"The equipment has changed a lot," Anderson said. "And the level of competition : there are people who specialize in just cyclocross. There are professionals from the United States making a living doing it. When I was a young man in the '70s, there might have been 15 people at the race. Today, at a major event, you have several hundred. In Portland, they had 800-plus participants, plus several thousand spectators. You're talking about a cult sport that's coming out of cult status."
Coming to Kansas City
Anderson predicts a rockin' good time when 'Cross Nationals roll into Kansas City.
"It'll be four days of absolute pandemonium," he said. "It has been several years of planning and every-other-week meetings, begging for sponsorships and promotions and trying to get city government to give permission to ride on their grass. It's a labor of love, from hundreds of volunteers like myself to make this happen."
What can a first-time 'cross fan expect?
"You can expect Kansas weather," Anderson said with a laugh. "So it could be 75 degrees and sunny and dry, or it could be 5 degrees and glare ice. You can expect world-class athletes, 2,000-plus athletes competing for national championships. There's great food, wonderful restaurants and coffee shops setting up. You'll see European cycling stars, celebrities of the cycling world. You'll see enthusiastic, trombone-blowing, tambourine-shaking fans who are a little off-color and loud.
"And you'll see cyclocross is very community-oriented. It's family and friends and dogs and picnics and chili and beer. It's like the NASCAR of bike racing. You'll get caught up living vicariously in these events. It will draw you in. It's fast-moving and dynamic. I can't wait."
The course will be at the corner of State Avenue and 126th Street.
Races start at 9 a.m. on Dec. 13 and run through the elite events, which are slated for noon (women) and 1 p.m. (men) Dec. 16.
Admission for spectators is free.
In addition to the races, there will be an expo tent and food and drink vendors.
If you go...
Course location
The course will be at Wyandotte County Park, near Kansas Speedway. It's at the corner of State Avenue and 126th Street. Admission is free
Who'll be there?
All the big names of domestic cyclocross racing will be there vying for the national titles. The main events are the elite men's and women's races at noon and 1 p.m. on Dec. 16.
Among those expected to attend are Barry Wicks, Ryan Trebon, Tim Johnson, Todd Wells and Adam Craig on the men's side and Katie Compton, Lynn Bessette and Topeka's Catherine Walberg on the women's side.
Event schedule
Dec. 13
9 - B women (45 minutes)
10 - B under-29 (45 minutes)
11 - B 30-39 (45 minutes)
Noon - B 40-plus (45 minutes)
5 p.m. - course closed
Dec. 14
9 - junior women 10-12, 13-14, 15-16, 17-18 (30 minutes)
10 - junior men 10-12, 13-14, 15-16 (30 minutes)
11 - junior men 17-18 (45 minutes)
1 p.m. - masters women 40-44, 45-49, 50-54, 55-59, 60+ (45 minutes)
2 - masters women 30-34, 35-39 (45 minutes)
3 - masters men 45-49 (45 minutes)
5 - course closed
Dec. 15
9 - U23 women (45 minutes)
10 - U23 men (45 minutes)
11 - masters men 30-34 (45 minutes)
1 p.m. - masters men 35-39 (45 minutes)
2 - masters men 40-45 (45 minutes)
3 - masters men 50-54, 55-59, 60-64, 65+ (45 minutes)
5 - course closed
Dec. 16
8 a.m. - single speed (45 minutes)
9 - collegiate women (45 minutes)
10 - collegiate men (45 minutes)
Noon - elite women (45 minutes)
1 - elite men (60 minutes)
Copyright 2018 The Lawrence Journal-World. All rights reserved. This material may not be published, broadcast, rewritten or redistributed. We strive to uphold our values for every story published.