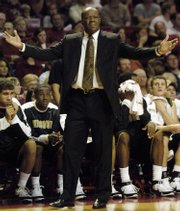 Fayetteville, Ark. — Mike Anderson's return to Bud Walton Arena ended a little sooner than he wanted.
"I don't think our guys lost," Anderson said. "They just ran out of time."
Charles Thomas scored 21 points and defended two last-second 3-pointers by Missouri, helping Arkansas hold off the Tigers, 94-91, Wednesday night. Anderson, Missouri's coach, spent 17 seasons as an assistant at Arkansas.
Sonny Weems made two free throws with 15 seconds left to give Arkansas a three-point lead. With the 6-foot-8 Thomas defending, Missouri's Stefhon Hannah tried an off-balance 3-pointer that missed, but a jump ball was called on the rebound, and the possession arrow favored the Tigers.
After Arkansas (5-1) called time out to set up its defense, Darryl Butterfield took an inbound pass in the left corner. Apparently trying to draw a foul, Butterfield leaned into Thomas. There was no call, and his toss went nowhere near the basket.
No. 8 Texas 98, Texas Southern 61
Austin, Texas - Damion James had 19 points and 10 rebounds, and Texas ran its record to 6-0 for only the second time in coach Rick Barnes' 10 seasons.
Getting a seventh straight victory is likely to be much tougher: the Longhorns travel to California to play No. 2 UCLA on Sunday.
No. 9 Texas A&M; 76, Alabama 63
College Station, Texas - Donald Sloan had 15 points and a career-high eight assists to help Texas A&M; remain undefeated.
Alabama got within two points of the Aggies (7-0) early in the second half, but didn't get any closer.
Texas Tech 71, TCU 58
Lubbock, Texas - Martin Zeno scored 26 points to lead Texas Tech.
The Red Raiders came from behind after TCU used a 13-4 run early in the second half to go up 48-35. Then Tech crept back slowly.
There were eight ties and nine lead changes.
Copyright 2018 The Associated Press. All rights reserved. This material may not be published, broadcast, rewritten or redistributed. We strive to uphold our values for every story published.