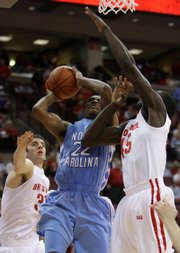 Columbus, Ohio — North Carolina didn't need any help from apparitions. It just seemed that way to cold-shooting Ohio State.
Wayne Ellington and Deon Thompson led a second-half surge, and the top-ranked Tar Heels held Ohio State without a field goal for almost 11 minutes in a 66-55 victory Wednesday night.
The game turned when the Buckeyes missed 17 consecutive shots from the field, a span during which a 39-39 tie turned into a 57-43 deficit.
"The ball went down in the hole," Buckeyes guard Jamar Butler said. "It seemed like a ghost was in there, knocking it out."
Ellington, averaging 17 points per game, scored 23 points, and Thompson had 14, most at critical times for the Tar Heels (6-0). Tyler Hansbrough was just 6-of-19 from the field and had 13 points and 11 rebounds in one of the premier matchups of the ACC/Big Ten Challenge.
Ohio State had won six of its last seven games against No. 1 teams.
No. 2 UCLA 83, George Washington 60
Los Angeles - Russell Westbrook had 19 points, eight assists and seven rebounds to lead UCLA.
Preseason All-America point guard Darren Collison added 14 points and had five assists in his season debut for the Bruins (7-0). Josh Shipp scored 15 points for UCLA, and freshman Kevin Love had a double-double with 11 points and 11 rebounds.
No. 5 Georgetown 66, Old Dominion 48
Norfolk, Va. - Roy Hibbert had 14 points and 10 rebounds for Georgetown, which took control in the second half.
The Hoyas got four points each from Jonathan Wallace and Patrick Ewing Jr. and three from Hibbert in an 11-1 run to start the second half, opening a 41-24 lead with 16 minutes to play.
Gerald Lee, a 6-foot-9 sophomore, outplayed the 7-2 Hibbert for the first 20 minutes. He had 16 points and eight rebounds, seven offensive, by halftime. Lee finished with 24 points and 12 rebounds, both career highs.
No. 10 Michigan St. 81,
No. 24 North Carolina St. 58
East Lansing, Mich. - Goran Suton had 16 points and 12 rebounds, and Michigan State cruised.
The Spartans have won 30 straight nonconference home games in Breslin Center, extending what was the nation's sixth-longest active streak entering the game that was part of the Big Ten/ACC Challenge.
J.J. Hickson had 21 points and 10 rebounds for N.C. State, which shot poorly and was dominated on the boards by the Spartans.
No. 23 Xavier 93, Oakland 68
Cincinnati - Stanley Burrell scored 15 points in a tone-setting first half, and Xavier won its fourth straight.
Xavier had a 51-point first half fueled by a man-to-man defense that has dramatically improved in the last two weeks.
Once the Musketeers got rolling, Oakland couldn't slow them down. Xavier went on 16-2 and 21-2 runs in the first half, when it led by as many as 26 points.
Copyright 2017 The Associated Press. All rights reserved. This material may not be published, broadcast, rewritten or redistributed. We strive to uphold our values for every story published.