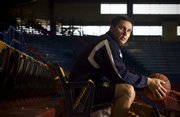 Rex Walters at a glance
¢ The 6-foot-4 transfer from Northwestern averaged 16.0 points as a junior and 15.3 as a senior off 51 percent shooting (42 from three; 85 at the line).
¢ He sparked KU to a 56-12 overall record in 1991-92 and '92-93. KU won the Big Eight title both years and advanced to the '93 Final Four in New Orleans, where the Jayhawks fell to North Carolina in the national semifinals.
¢ Named all-Big Eight both seasons at KU and was Big Eight Male Athlete of the Year as a senior in 1993.
¢ Upon graduating from KU, he was taken by New Jersey as the No. 16 pick in the 1993 NBA Draft. He played seven seasons with the Nets, Philadelphia 76ers and Miami Heat averaging 4.6 points and 1.7 assists.
¢ Played internationally for two years and with the Kansas City Knights of the ABA.
Rex Walters stood at center court Tuesday afternoon in Kansas University's Horejsi Center, his Florida Atlantic basketball players huddled around him, taking in every word.
The 37-year-old former KU standout, who played for Roy Williams in college and Chuck Daly, Larry Brown and Pat Riley in the NBA, now is using the lessons taught him by his mentors at the Sun Belt Conference school.
"Oh gosh, this is something I always wanted to do," said Walters, who tonight will lead his second FAU team into Allen Fieldhouse for a 7 p.m. tipoff against his alma mater.
"I remember telling coach Williams the first time we ever met. He said, 'What do you want to do?' I said, 'I want to coach.' Now I'm living the dream."
He hopes the dream doesn't turn into a nightmare tonight.
FAU, which receives $65,000 guarantee money for playing the game, enters with a 1-5 record. All six games were played on the road.
"Obviously I'll get chills. I get to see a lot of familiar and friendly faces," Walters said of tonight's sure-to-be-surreal experience.
"It's a special place. They don't make the people any better than the people at KU and in the state of Kansas. The love and passion for football now, and basketball, it's really kind of neat."
He believes all the emotion will cease at the opening tip.
"I'll see Darrell Arthur and Brandon Rush and not feel too well," Walters said, realizing he needs to devise a game plan to stay with the Jayhawks (5-0).
"If we play a 90-possession game against Kansas, it's going to be a blitzkrieg. It's going to be nasty, so we're going to try to limit the possessions, try to keep them out of the paint," noted Walters, whose Owls fell to Williams' North Carolina Tar Heels, 105-52, last December in Chapel Hill, N.C.
"We do run the secondary break (of Williams). We do a lot of the same things you saw when I played here for coach Williams. You won't see us run tomorrow."
Walters' Owls fell to UMKC, 77-66, on Monday night at Municipal Auditorium.
His players lifted weights at 10 a.m., then practiced from 11 a.m. until 2 p.m. Tuesday at KU. Walters and his assistants, including former KU team manager and current Owls' director of basketball operations Justin Bauman, were able to visit with KU coach Bill Self after practice.
"It's good to see we have a Bob Billings Boulevard. The first home we ever purchased was from Bob. He was a great man," said Walters, who graduated from KU in 1993 and made his home here while playing seven years in the NBA. His first coaching job was as as an assistant for Homer Drew at Valparaiso from 2003 to '05, followed by a year under Matt Doherty at FAU before taking the head coaching job after Doherty left for SMU.
"We drove by the (Jayhawker) Towers today, pulled into the parking lot where I spent a lot of time in the fieldhouse," Walters said. "We saw Robinson Gym : I spent an awful lot of time in there in my day when I should have been studying. It's really good to be back."
The San Jose, Calif., native will be joined at the game by his parents (who have homes in Las Vegas and Colorado Springs) and in-laws (from Jupiter, Fla.), as well as his wife, Deanna, and two of his four children, Drew, 8, and Gunner, 3. Addison, 11, and Riley, 5, are back in Boca Raton, Fla.
"Drew wants to go to KU. Addison wants to go to Carolina. Right now, Gunner and Riley are committed to staying with mom and dad," Walters joked.
He's been busy at FAU trying to sign the right players and build a competitive program. His squad went 15-13 last year and an impressive 14-6 in the league.
This year's squad has not been helped by the fact Walters has lost three players, including leading scorer Paul Graham, who is on indefinite suspension. Leading scorer is 6-8 junior Carlos Monroe at 17.2 ppg.
"I'm very stubborn as a coach. I expect an awful lot from my players," Walters said. "Some of my guys don't feel they can live up to it. They are not with us anymore.
"But I like this group. We are very young. We have a lot of things to work on. They came out today and went at it hard after a difficult and disappointing loss yesterday. I'm proud of them for that. It gives us a chance to be a good team at the end of the year."
KU's fans won't be as focused on the Owls as their coach tonight.
Former shooting guard Walters, who is the No. 37-leading scorer in KU history and leading free-throw percentage shooter of all-time (84.9 percent) despite playing here just two years after transferring from Northwestern, happened to be a fan favorite because of his hustle.
"Rex was a great player here. I'm sure he will tell his team about how special it is to play in Allen Fieldhouse. Hopefully we welcome him back right and have a great crowd," Self said. "And Justin as well. He was manager here for both Roy and myself."
Of Walters, Self recalled: "If every player cared as much as Rex cared, every team would be better off. I remember Roy saying he was one of the most competitive guys he ever coached along with Michael (Jordan)."
Self grinned when asked if it would be tough to try to beat Walters' team. "No, and trust me it won't be hard for him coming in here (trying to beat KU). It will be emotional for him I'm sure, then after the game starts it won't be hard at all."
Copyright 2018 The Lawrence Journal-World. All rights reserved. This material may not be published, broadcast, rewritten or redistributed. We strive to uphold our values for every story published.