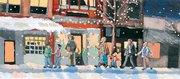 Holiday music events, gift ideas, activities for kids, food, decor & much more!
The Lawrence Parks and Recreation Department is collecting toys to be donated to The Shelter Inc.
Residents are asked to bring in a new, unused toy to any of the following locations:
The Community Building, 115 W. 11th St.; East Lawrence Recreation Center, 1245 E. 15th St.; Holcom Park Recreation Center, 2700 W. 27th St.; Lawrence Indoor Aquatic Center, 4706 Overland Drive; Prairie Park Nature Center, 2370 Harper St.; South Park Recreation Center, 1141 Mass.; or the Administrative Office, 947 N.H. The drive ends Dec. 20.
For more information, contact Roger Steinbrock at 832-3458.
Copyright 2018 The Lawrence Journal-World. All rights reserved. This material may not be published, broadcast, rewritten or redistributed. We strive to uphold our values for every story published.