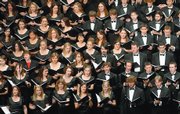 Past Event
2:30 p.m. and 7:30 p.m. performances.
When: Sunday, December 2, 2007, 2:30 p.m.
Where: Lied Center, 1600 Stewart Drive, KU campus, Lawrence
Cost: $12.50 - $10
-->
-->
Past Event
When: Thursday, December 6, 2007, 7:30 p.m.
Where: Lied Center, 1600 Stewart Drive, KU campus, Lawrence
Cost: $10 - $12.50
-->
-->
Past Event
When: Saturday, December 8, 2007, 7:30 p.m.
Where: Free Methodist Church, 3001 Lawrence Ave. , Lawrence
Cost: $5 - $10
-->
-->
Instead of watching sugarplum fairies prance in purple tutus at the "Nutcracker," check out a different spin on Tchaikovsky's claim to holiday fame.
Kansas University Jazz Bands have spiced up holiday music with tunes like Duke Ellington's variation of the "Nutcracker Suite" at their annual Jazz Vespers concert for the last six years.
"There's some really good stuff (out there)," said George Brahler, KU senior and trumpet player. "The Ellington 'Nutcracker' is amazing."
Jazz Vespers is relatively new to the cluster of holiday programs that take place annually in December.
"I always looked forward to the jazz (part of the concert)," said Scott Lefler, KU graduate student in music performance. "It was always something fun that our parents could come and see."
Jazz Vespers is separate than KU's Holiday Vespers concert, which features the orchestra and choirs. This year the jazz portion will take place at 7:30 p.m. Dec. 6 at the Lied Center. Tickets are $12.50 for adults and $10 for students and senior citizens.
"The program is definitely made to fit a jazz ensemble," Brahler said.
In past years, the bands have played holiday favorites by Stan Kenton, mastermind behind the Kenton Christmas Carols, and also Bing Crosby.
"I always enjoyed jazz band, and mainly because of the repertoire," Lefler said. "(Dan Gailey) never made us play music that was boring."
Students consider Gailey, director of jazz studies at KU, to choose contemporary works. The bands have worked on pieces arranged by Vincent Mendoza, who has worked with eclectic artists like Bjork.
The weekend before the jazz bands spice up the holidays, KU's annual Holiday Vespers will mark an 83rd concert. There will be two performances Dec. 2, at 2:30 p.m. and 7:30 p.m. Tickets will be $12.50 for adults and $10 for students and senior citizens.
The Candelight Vespers tradition will continue in Baldwin City as well. The 77th annual program will be at 4 p.m. and 7:30 p.m. Dec. 2 at First United Methodist Church, 704 Eighth St.
For a different holiday music experience, KU's Lied Center also will feature Eileen Ivers, an Irish-American who specializes in Celtic fiddling. The concert with Ivers is called "An Nollaig,"meaning "An Irish Christmas," and will be at 7:30 p.m. Dec. 8. Tickets run from $12.50 to $30.
The Lawrence Civic Choir also will be performing seasonal pieces from composers like Handel and Rutter. The staple of the holiday concert this year will be Benjamin Britten's "Ceremony of Carols."
"(We will perform) a wide variety of seasonal music," said Steve Eubanks, LCC artistic director. "I think people will really enjoy (the concert)."
The choir's concert will take place at 7:30 p.m. Dec. 8 at Free Methodist Church, 3001 Lawrence Ave. Tickets are $10 for adults, $8 for students and senior citizens, and $5 for children.
If you'd rather have something to sip on while you listen to holiday tunes, bars around town also will be brimming with live music this winter.
At Ten, 701 Mass., the Eldridge Hotel's bar has live jazz music every first and third Wednesday of the month, and the musicians will be spreading holiday cheer as the temperature drops.
"I'm sure they'll do Christmas (tunes)," said bar manager Luke Lawlor. "I'd be surprised if they didn't."
If you'd like something red or white to sip for the season, Ten also has 25 percent off all wine bottles on jazz Wednesdays.
Pachamama's, 800 N.H., also features live jazz music on Thursday evenings and a piano soloist on Saturday nights.
Assistant manager Dana Hangauer said she believed the musicians would play holiday music, "especially if it's requested."
Area bars also have holiday events. The Jazzhaus, 926 1/2 Mass., will show an 18-piece jazz band Dec. 22, playing jazz and holiday favorites. You can get your dose of holiday jams and enjoy homemade food all night.
Watch out for Slick Rhodes, who will be performing Dec. 12 at the Eighth Street Tap Room, 801 N.H. Mr. Rhodes gives a unique perspective of the holiday season. This Santa's creative holiday hits will leave audience members brimming with Christmas joy.
"It's like bad Santa meets a lounge singer," said Arthur Dodge, bar patron.
Copyright 2018 The Lawrence Journal-World. All rights reserved. This material may not be published, broadcast, rewritten or redistributed. We strive to uphold our values for every story published.