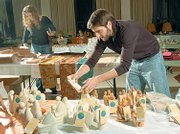 Buoyed by last year's promising start, the Lawrence Community Interfaith Initiative will return with Mayors and Players Turn It On, a utility assistance fundraiser.
Current and former Lawrence mayors and local celebrities are expected as featured guests for the second annual event, which will be Nov. 30. They will help bartend and DJ for tips from 8 p.m. Friday to 1 a.m. Saturday at Zig & Mac's, 1540 Wakarusa Drive. Money raised will help households turn on one or more of their utilities that are shut off. The service is directed by the East Central Kansas Economic Opportunity Corporation.
"It's the only effort in town that does that," said Steve Ozark, volunteer coordinator and founder of the Interfaith Initiative.
He said last year they raised just over $3,300, which helped 38 households. This year, he said he hopes to "blow that number out the door."
"We ran out of money within a few weeks of raising the money," he said. "There's more need certainly than that."
He said Aquila reported a minimum number of gas shutoffs in January and February of this year.
"Aquila said that effort really helped keep utilities going," Ozark said.
People who wish to apply for assistance can call contact ECKAN at 841-3357.
Copyright 2018 The Lawrence Journal-World. All rights reserved. This material may not be published, broadcast, rewritten or redistributed. We strive to uphold our values for every story published.