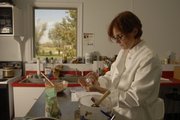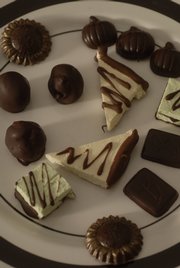 Past Event
When: Saturday, December 8, 2007, 8 a.m. to 3 p.m.
Where: Columbus Hall, 2206 E. 23rd St., Lawrence
Cost: Free
-->
-->
In the spirit of community and holiday indulgence, two Lawrence Farmers Market vendors are combining their specialties to offer a treat at this year's Dec. 8 holiday sale: wine-infused chocolate, the consistency of frosting, in a jar.
Spoon included.
After meeting at the Farmers Market this year, Jean Younger, of Sleepy Jean's Confections, and Don and Maxine Bryant, of Jefferson Hill Farm and Winery, decided to create this delectable dessert.
"Our white wine goes really well with her white chocolate, and our red wine goes really well with her dark chocolate," Maxine Bryant said. "We do it with frozen strawberries, blueberries and raspberries, pour white chocolate on top - it's really good. It's really good out of the jar, too."
Younger said the Bryants were helpful in her first year at the market. She was the "floater" at Saturday's markets, she said, because she was new.
She said she always wanted to own her own candy store, and two years ago she quit her job as an attorney for General Electric in Kansas City, Mo., and began crafting chocolate creations in her kitchen. Before it became her business, complete with a commercial kitchen, she made holiday treats for family and friends.
"I always made my fudge. Everyone wanted my fudge," she said.
It was the day Younger's booth was next to Bryant's that the collaboration was formed. Maxine Bryant said she approached Younger with the idea to try and sell their wine and chocolate together somehow. Younger said she sent the Bryants home with a bag of chocolate to try out.
Later she and a friend went to the Bryants' winery try some combinations together.
"It's probably the most fun I've had thus far," she said of her market experience. "We started making mixtures of chocolate and wine and tasting," she said. "We were tasting probably from 9 a.m. till noon and came up with several combinations that were really pretty good."
She returned with truffle samples the Bryants tried and selected some for a sample to begin selling.
Younger's truffles include the Jefferson Hill Catawba Cheesecake Truffle, a double-layered cheesecake truffle dipped in both milk chocolate and a milk chocolate and mix with the Catawba grape. They also make wine and chocolate gift baskets.
She is satisfied with the white wine and white chocolate combination, but is still experimenting with the dark chocolate and red wine.
"That's the fun part, the chemistry part, figuring out what's not working," she said.
About 70 vendors will sell foods and crafts such as bath or baby products, gift baskets and home decor at the holiday market. In addition to the two floors of the hall they will fill, there also will be some vendors outside this year to help with traffic flow and allow more participants to sell, said Amy Saunders, market coordinator.
Food and hot drinks will be served, and Santa Claus may make an appearance too, she said.
Specialty items such as the wine and chocolate and unique crafts sold at the holiday market are a labor of love that allows vendors to show off talents kept under wraps during the regular market season.
"For the regular market, we have a very stringent craft policy because we want to focus on things that are grown locally. Something special about the holiday market is everyone who has a hobby can show off. We all have talents, things we do behind the scenes, besides production," Saunders said.
"A lot of the customers that come to the regular market come and find very unique items they can't find at the store," she said. "Even if a vendor has all of the same items, it's not exactly the same, because they are all handmade."
Copyright 2018 The Lawrence Journal-World. All rights reserved. This material may not be published, broadcast, rewritten or redistributed. We strive to uphold our values for every story published.