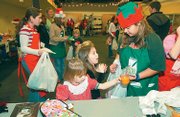 Past Event
When: Sunday, July 15, 2007, 10 a.m.
Where: North Lawrence Christian Church, 647 Elm St.
-->
-->
Past Event
For 3- to 12-year-olds. Friday members only, Saturday all welcome.
When: Friday, December 7, 2007, 4:30 p.m. to 7 p.m.
Where: Lawrence Arts Center, 940 New Hampshire St., Lawrence
Cost: $1 - $5
-->
-->
Past Event
Class for children ages 3 and under with an adult. Two sessions open.
When: Monday, December 3, 2007, 5:30 p.m. to 6 p.m.
Where: South Park Recreation Center, 1141 Massachusetts St., Lawrence
Cost: $12
-->
-->
Past Event
Irish rock
When: Tuesday, August 7, 2007, 10 p.m.
Where: The Jackpot Music Hall, 943 Mass., Lawrence
-->
-->
Past Event
10:30 session for 5- to 8-year-olds, 1:30 session for 9- to 14-year-olds
When: Saturday, December 8, 2007, 10:30 a.m. to 12:30 p.m.
Where: Spencer Museum of Art, 1301 Miss., KU campus, Lawrence
Cost: $10 - $12
-->
-->
This year, Santa Claus stole the Easter Bunny's flair. The Lawrence Parks and Recreation Department will make sure kids get their dose of Christmas cheer - and sugar - at its candy cane hunt. This is one way to get ready your little elves ready for the holidays.
After Santa scatters candy canes around the East Lawrence Recreation Center, 1245 E. 15th St., the youngsters will join him to drink hot chocolate and boogie to holiday music.
"I'll have an area blocked off with cones for smaller kids so that they don't get run over," says Olivia Mayer, Recreation Center programmer and mastermind behind the hunt.
They'll also have games to play like "Pin the Nose on Rudolph," she says.
"I'll have secret candy canes, marked in a special way, that kids can get a prize (for finding)," Mayer says.
For smaller children and toddlers, Parks and Recreation will have "Petite Picasso" classes for kids to take with a parent, where they'll make presents to give as gifts.
"We'll have three 8-by-10 canvases where they can paint or they can do their handprint," says Jo Ellis, recreation programs supervisor. "When they have paint in front of them, they're good to go."
There will be four class sessions, all at South Park Recreation Center, 1141 Mass.
"We have a lot of things to do when they're done with each project," Ellis says. "We try to have various projects to do (to keep kids busy)."
At the class, participants may also decorate baby food jars, and Ellis will provide plenty of scratch paper for drawing. The little ones will cook up "reindeer food" that can be set out with Santa's milk and cookies on Christmas Eve.
The Lawrence Arts Center, 940 N.H., plans similar holiday classes, like the Art Party and the Family Holiday Ornament Mosaic Workshop.
These classes have been around for a long time and are popular activities for children around the winter holidays, says Bonnie Cherry, LAC administrative coordinator.
At the Art Party, participants will construct unique holiday artwork to take with them to give as gifts.
During the Family Holiday Ornament Mosaic Workshop, children over 6 years can work with an adult family member or friend making ornaments to personalize their tree at home.
The Arts Center also will host a Children's Holiday Shop to give kids an economical shopping experience to pick out other gifts for family members.
Each participant will get his or her own elf as an escort through the shop.
"I got my grandma an animal," Zach O'Connell, 6, says of his shopping experience at the Holiday Shop. "I got her a red bear."
Mary O'Connell, Lawrence resident, has taken her kids to the holiday shop in the past.
"It's like secret Santa," O'Connell says. "It's really reasonably priced for the kids."
For LAC members, the Holiday Shop will take place Dec. 7 and will be open to the public Dec. 8.
The Spencer Museum of Art, 1301 Miss., also is a resource for holiday-themed activities in December.
On Dec. 8, the museum will feature the Beads to Bangles class.
"Jewelry (will) tie into the holidays," says Kristina Mitchell-Walker, director or education.
Copyright 2018 The Lawrence Journal-World. All rights reserved. This material may not be published, broadcast, rewritten or redistributed. We strive to uphold our values for every story published.