Photo Gallery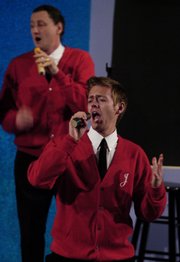 Forever Plaid
Decked out in red cardigans, black slacks, fleece scarves and Santa hats, the all-male 1960s quartet of the classic "Forever Plaid" is preparing to take the stage.
It's been 10 years since the Lawrence Community Theatre featured the revue "Forever Plaid." This year, it's playing host to the holiday follow-up, "Forever Plaid: Plaid Tidings."
The musical, created by Stuart Ross, tells the story of the quartet's return to Earth after a car accident and making a short trip to a void beyond the universe. The men find themselves in front of an audience, trying to figure out why they've returned, said Mary Doveton, stage director and executive director of the Lawrence Community Theatre.
"It's a brand new show," Doveton said. "We're one of the first theaters in the country that has the rights to produce it."
The quartet performs oldies such as "Stranger in Paradise" and "Sh-Boom," with a variety of holiday songs, including "The Christmas Song" and "Let it Snow." The group also explains in the show how they once met Perry Como and performs the entire "The Ed Sullivan Show" in just over three minutes.
"It's a mixture of comedy and some of the songs from the '50s and '60s," Doveton said. "It's a really broad spectrum." She recommended the show for families and noted its general holiday appeal.
The four actors in "Plaid Tidings" were chosen from auditions in late September. Doveton said the show required excellent actors and singers. "We wanted a group of four that looked like they could be friends," Doveton said. "We accomplished that."
Each character has his own personality quirks, said John Phythyon, who plays Sparky. "They're all losers in their own way," he said. "They bonded through music and the fact that they all have these inadequacies."
Phythyon, who described his character as the class clown of the group, said one of the reasons he auditioned for the show was for the tunes. "I've done jazz music since college," he said. He adds that he also enjoys working on holiday shows.
Patrick Kelly, who plays Frankie, said he performed in the original "Forever Plaid" in Topeka "a long time ago." He said he thought it would be fun to be a part of the sequel. He described his character as the leader of the group who suffers from asthma and gets nervous when performing.
The characters "complement each other really well" through their strengths and weaknesses, said David Price, who plays Jinx. "All together they make a fine little quartet." He described his character as shy and prone to nosebleeds when singing at a high range. However, his character breaks out of his shell during one defining song, Price said.
As a KU student majoring in music education, Price said he has done theater his whole life. He tried out for "Plaid Tidings" because he had never performed in a show at the Lawrence Community Theatre.
Jason Gibson, a recent KU graduate with a degree in theatre performance, rounds out the cast and plays Smudge. He described his character as a worrier and pseudo-intellectual. "He is always reminiscing about things they should or could have done," Gibson said.
Gibson auditioned for the show because of its unique format. "I've never done a small ensemble cast," he said.
Gibson also said he was a fan of doo-wop, a type of rhythm and blues music that is featured in "Plaid Tidings."
The dynamic between the four characters is heightened through their adoration for singing as a group, Phythyon said. "They love the music," he said.
"Whenever you get a good cast, you have a good show," Doveton said about the actors. "We have a great cast."
"Plaid Tidings" is playing at the Lawrence Community Theatre, 1501 New Hampshire St., on Nov. 16-18, 23-25, 29, 30, and Dec. 1, 2 and 6-9. Tickets are now available.
Copyright 2018 The Lawrence Journal-World. All rights reserved. This material may not be published, broadcast, rewritten or redistributed. We strive to uphold our values for every story published.