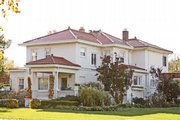 Past Event
When: Sunday, December 2, 2007, 2 p.m. to 6 p.m.
Where: Various locations, Lawrence
Cost: $12 - $15
-->
-->
Tour stops
Among homes/locations featured on this tour:
¢ Karla and Rich Nathan, 1754 E. 1200 Road
¢ Father Mick Mulvany, 3209 Harvard Road
¢ Judy and Ted Juneau, 2008 Greenbrier Drive
(Tickets required for admission.)
Touring the interior of Evelyn and Bob Senecal's European-style villa home at 21st and Louisiana streets is a little like traveling through the seven continents.
The rambling structure, which includes an office, children's playroom, poolroom, bar, sauna and wine cellar, is decorated throughout with treasures they've collected while traveling worldwide.
"The design is eclectic, with souvenirs from all over the world. Our house represents what we've done in our lifetime," Evelyn Senecal says. "We've had travel, children - there's my Swedish heritage. All of that is reflected in the house."
Their unique setup will be on display Dec. 2 as part of the third annual Holiday Homes Tour, a benefit for Health Care Access.
The center, 1920 Moodie Road, is a nonprofit clinic that offers or facilitates medical services for those residents not covered by private or government insurance programs.
In 2005, the clinic served 1,177 patients, a 23 percent increase since 2004.
"We'd love to make $10,000 this year," says Sally Zorgy, development assistant and tour coordinator for Health Care Access.
The tour, which runs from 2 p.m. to 6 p.m., is one of two major fundraisers for the agency. The other is the Lawrence Half-Marathon and 5K, which takes place in April.
Some other events planned in coordination with the tour:
¢ Plymouth Congregational Church, one of the tour sites, will have a craft sale, with proceeds donated to the agency.
¢ Lawrence resident Karla Nathan, who also is opening her home to the tour, will have a gift shop. She will donate 25 percent of sales to Health Care Access. She will sell tickets to the event from her home gift shop, 1754 E. 1200 Road, on Nov. 30 and Dec. 1.
¢ The agency is doing cross-promotional work with Centenary United Methodist Church to support its annual Festival of the Nativities. Read more about that event on page 50.
Diversity like what the Senecals have to offer is part of what tour coordinators sought for the event.
"We've been trying to promote diversity, reflect diversity in the community," Zogry says. "The Senecals and their Swedish heritage, they're a part of that."
Evelyn's four grandparents were Swedish immigrants, and she spent time in Sweden as an exchange student. Thus she's included her heritage in several parts of the house.
The children's playroom is decorated with paint duplicated from samples she took during a visit to the country. There's also a Swedish expression painted on the ceiling: "Children love each other, because love is all-important." Also painted in that room: "Welcome to Meadowley." That's the name of the house as stated on the deed the Senecals received when they moved there in 1975.
Evelyn cites other examples of Swedish pieces in her home: a chandelier that looks like a crown, a large-sized straw mountain goat, an antique bench with a storage unit that doubles as a child's bed. She's also decorated with prints from Swedish artist Carl Larsson.
But for holiday decor, the Senecal family showcase will be the dining room table.
"I probably have 30 bowls of candy on the table, eight candlelabra. It's pretty elaborate," Evelyn says.
The couple expect 21 family members for Christmas - their four children visit in-laws for the holidays every other year - which is why Evelyn will be decorating the house for the tour.
"I won't do a thing next year," she laughs. "I won't even put up a wreath."
The Senecals are aware their house is frequently the subject of sketches by Lawrence High School art students - Evelyn says Centennial School children used to draw the place from next door, when the school was still open.
"I think because there's so many nooks and crannies, angles in the roof," she says.
Evelyn doesn't mind living next to one of Lawrence's two high schools.
"When it was time for the kids to go to school," she says, "they'd just roll out of bed and go."
Copyright 2018 The Lawrence Journal-World. All rights reserved. This material may not be published, broadcast, rewritten or redistributed. We strive to uphold our values for every story published.