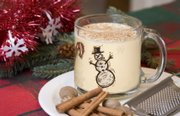 Our stomachs somehow know it - the holidays are approaching.
There's nothing quite like that perfect seasonal food to get you in the celebratory spirit.
Here are some recipes to enliven your holiday party, holiday get-together or your fun night in the kitchen just to get away from all the holiday hubbub.
Appetizers
Spiced nuts
Assorted shelled nuts (almonds, cashews, peanuts, etc.)
For sweet and spicy nuts:
Peanut oil, for drizzling
Sugar, to taste
Kosher salt, to taste
Chinese five-spice powder, to taste
For savory nuts:
Peanut oil, for drizzling
Kosher salt, to taste
Chili powder, to taste
Preheat the oven to 400 degrees.
For a sweet and spicy nut, toss your choice of nuts with oil, sugar, salt and a few dashes of Chinese five-spice powder.
For a savory and spicy nut, toss your choice of nuts with oil, salt and a few dashes of chili powder.
Lay out the nuts in an even layer on a baking dish. Bake, redistributing the nuts every 7 minutes or so to make sure they cook evenly, until the nuts are lightly browned, about 15 to 20 minutes.
- Source: www.foodnetwork.com
Hot artichoke dip
1 can artichoke hearts in brine
1 grated cup Parmesan cheese
1 cup mayonnaise
Cut up artichoke hearts and mix with the mayonnaise and Parmesan cheese. Bake in a 350-degree oven for 20 minutes. Serve immediately.
- Source: www.ivillage.com
Black bean dip
1 15-ounce can black beans
4 cloves garlic, minced or pressed
1 teaspoon ground cumin or to taste
2 teaspoons chili powder
1/4 cup balsamic vinegar
Salt and pepper to taste
Simply put all the ingredients in a food processor and process until smooth. Some canned beans have more liquid than others, so you may have to add more vinegar to make the consistency right, but don't use more than 1/2 cup vinegar.
Serve as a dip for veggies, corn or flour tortilla chips, pita chips, etc.
- Source: www.ivillage.com
Beverages
Spiced apple iced tea
3 cups cool water
2 iced tea bags, pitcher-size or 6 iced-tea bags, glass-size
1 cup apple juice
2 tablespoon sugar
1/8 teaspoon ground cinnamon (optional)
In 2-quart pitcher, pour cool water over tea bags; brew 5 minutes, dunking tea bags occasionally. Remove tea bags. Stir in apple juice, sugar and cinnamon. Pour into ice-filled glasses and garnish, if desired, with apple slices.
- Source: www.ivillage.com
Egg nog
12 separated eggs
1 cup granulated sugar
1 cup bourbon
1 cup cognac
1/2 teaspoon salt
3 pints heavy cream
Grated nutmeg
Beat yolks until light in color. Slowly add bourbon and cognac, while beating at slow speed. Chill 3 hours. Add salt to whites, beat to peaks. Whip cream until stiff. Fold whipped cream into yolk mixture, then fold in the beaten egg whites. Chill one hour. Serve with nutmeg sprinkled on top. For thinner mixture add 1 or 2 cups of milk. Serve in a punch bowl or another big bowl.
- Source: www.webtender.com
Wassail
1 gallon apple cider
8 sticks cinnamon
1 lemon, washed and sliced
1 orange, washed and sliced
1 tablespoon whole cloves
1 tablespoon allspice
1 gallon white wine
2 cups rum
Simmer the nonalcoholic ingredients together for 1-2 hours, then add the wine and rum about 10 minutes before serving (hot).
- Source: www.webtender.com
Desserts
Gingerbread
6 cups all-purpose flour
1 3/4 cups sugar
2/3 cups shortening
1 tablespoon ground cinnamon
1 tablespoon ground ginger
2 teaspoons double-acting baking powder
1 1/4 teaspoons salt
1 teaspoon baking soda
1 teaspoon vanilla extract
1 eight-ounce container sour cream
2 eggs
Into large bowl, measure 3 1/2 cups flour and remaining ingredients. With mixer at low speed, beat until well-mixed, constantly scraping bowl with rubber spatula. With hand, knead in remaining 2 1/2 cups flour to make a soft dough. Wrap dough in plastic wrap and refrigerate 2 hours or until dough is not sticky and is of easy kneading consistency.
Keep refrigerated until ready to use. Working with half of a batch at a time on a lightly floured work surface with lightly floured hands, knead dough until smooth. Then on a greased and floured 17-by-14-inch cookie sheet, with lightly floured rolling pin roll dough to 3/16-inch or 1/8-inch thickness. You can use dowels of the same size at either side of the dough on the cookie sheet to help create a uniform thickness. (For easy rolling, place cookie sheet on a damp cloth to prevent it from slipping.)
Make your pattern pieces of heavy cardboard. Lay them on the dough and using a sharp knife use as many pieces as you can from the rolled dough on your cookie sheet, leaving at least 1/2 inch between the pieces. Remove scraps and reserve for re rolling. Preheat oven to 350 degrees.
Place cookie sheet in the refrigerator if there is room while the oven preheats. Bake until golden brown and very firm when lightly touched with your finger. Remove cookie sheet from oven and cool on wire rack 5 minutes. Carefully remove the baked pieces from cookie sheet and place on wire rack to cool completely.
- Source: gingerbreadlane.com
Pistacio-cranberry icebox cookies
1 1/2 cups all-purpose flour
1/2 teaspoon cinnamon
1/4 teaspoon salt
1 1/2 sticks (3/4 cup) unsalted butter, softened
1/4 cup plus 2 tablespoons granulated sugar
1/2 teaspoon finely grated fresh orange zest
1/2 cup shelled pistachios (2 1/4 oz; not dyed red)
1/3 cup dried cranberries (1 1/4 oz)
1 large egg, lightly beaten
1/4 cup decorative sugar (preferably coarse)
Stir together flour, cinnamon, and salt in a bowl.
Beat together butter, granulated sugar and zest in a large bowl with an electric mixer at medium-high speed until pale and fluffy, about 3 minutes. Reduce speed to low and add flour mixture in 3 batches, mixing until dough just comes together in clumps, then mix in pistachios and cranberries. Gather and press dough together, then divide into 2 equal pieces. Using a sheet of plastic wrap or wax paper as an aid, form each piece of dough into a log about 1 1/2 inches in diameter. Square off long sides of each log to form a bar, then chill, wrapped in plastic wrap, until very firm, at least 2 hours.
Put oven racks in upper and lower thirds of oven and preheat oven to 350 degrees. Line two large baking sheets with parchment paper.
Brush egg over all 4 long sides of bars (but not ends). Sprinkle decorative sugar on a separate sheet of parchment or wax paper and press bars into sugar, coating well.
Cut each bar crosswise into 1/4-inch-thick slices, rotating bar after cutting each slice to help keep square shape. (If dough gets too soft to slice, freeze bars briefly until firm.) Arrange cookies about 1/2 inch apart on lined baking sheets.
Bake cookies, switching position of sheets halfway through baking, until edges are pale golden, 15 to 18 minutes total. Transfer cookies from parchment to racks using a slotted spatula and cool completely.
- Source: www.epicurious.com
Coconut-Orange Snowballs
1 1/4 cups sweetened flaked coconut
1 cup (2 sticks) unsalted butter, room temperature
2 1/4 cups sifted powdered sugar (sifted, then measured)
1 1/2 teaspoons vanilla extract
3/4 teaspoon coconut extract
2 1/4 cups all purpose flour
1 1/2 tablespoons grated orange peel
1/2 teaspoon salt
Preheat oven to 350 degrees. Bake coconut on rimmed baking sheet until light golden, stirring occasionally, about 12 minutes.
Using electric mixer, beat butter, 1/2 cup powdered sugar, and both extracts in bowl to blend well. Beat in flour, orange peel and salt. Stir in coconut. Cover and chill at least 1 hour and up to 1 day. Soften dough slightly before shaping.
Preheat oven to 350 degrees. Line 2 large baking sheets with parchment paper. Using 1 level tablespoon dough for each cookie, roll dough between palms of hands into balls. Place on prepared sheets, spacing 1 inch apart. Bake until golden on bottom but pale on top, about 18 minutes. Transfer cookies to racks; cool 5 minutes. Place remaining 1 3/4 cups powdered sugar in bowl. Roll hot cookies in powdered sugar, covering completely. Cool cookies on rack. Roll cookies in powdered sugar again, coating generously.
- Source: www.epicurious.com
Copyright 2018 The Lawrence Journal-World. All rights reserved. This material may not be published, broadcast, rewritten or redistributed. We strive to uphold our values for every story published.