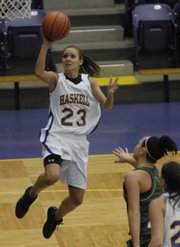 Sticking with what's familiar is often a good plan.
The Haskell Indian Nations University women's basketball team opened its game against Central Methodist University on Saturday with an aggressive approach on offense and defense that led to a 10-point halftime lead. But after a brief lull that saw the lead shrink to seven points with less than five minutes to go, the Indians returned to what worked and held on for a 67-57 victory at Coffin Sports Complex.
"I like to be aggressive," Haskell coach Phil Homeratha said. "We have to take you to the basket. We're better when we're going like that."
Quick ball movement by junior Kortney Smith, along with freshman Tahni Edmo's strong cuts to the basket - and her 10 first-half points - enabled the Indians to a 37-27 lead into halftime.
"We all came together in this game," Edmo said. "This game was a lot about chemistry. We've never played a game like this where we were passing the ball so much and not standing there dribbling. We like to go quick and go to the basket as much as possible."
Haskell's tough defense played a major role in Saturday's victory. The Indians flashed a full-court press throughout the night and forced 26 Eagle turnovers, including eight steals.
"If we would've let them get into a half-court game they'd have beaten us," Homeratha said. "So we used that press, and we forced 26 turnovers."
Haskell's attacking mentality also helped on the boards. The Indians out-rebounded the Eagles 19-11 on the offensive glass, which produced 10 second-chance points.
The Indians strayed from the plan slightly in the second half, as the visiting Eagles turned to Holly Wade and Danielle Boraz to cut a 13-point lead to seven with less than 10 minutes to go. That's when the Indians went back to what worked.
The brief let-up in intensity, along with a 10-for-21 showing at the free-throw line were the only blemishes in the Indians' effort. The victory moved Haskell's record back to .500.
"We're 4-4 now and that means we're real close to being a real good basketball team," Homeratha said. "It was a big win for us."
Edmo led Haskell with 15 points, while Johnston and senior Whitney Warrior had 11 each. Smith finished the night 10 points and five assists.
Copyright 2018 The Lawrence Journal-World. All rights reserved. This material may not be published, broadcast, rewritten or redistributed. We strive to uphold our values for every story published.