Other Edible gift ideas
Need some inspiration for easy edible gifts? Spread some holiday cheer with these goodies:
¢ Candied citrus peel
This is a classy and unusual gift for anyone on your list. There are many recipes online, all of which require removing the peel from the fruit, cutting it into strips and boiling it first in water, then in sugar syrup before rolling the pieces in sugar. For a decorative touch, dip the ends of the finished pieces in melted chocolate.
¢ Homemade marshmallows
These are easy, inexpensive and impressive. The ingredient list is simple - unflavored gelatin, corn syrup, vanilla extract, salt and sugar. You can even swap out the vanilla extract for peppermint. Use cookie cutters to cut them in holiday shapes, such as stars. There are plenty of recipes online, including one at Martha Stewart's Web site, www.marthastewart.com
¢ Hot fudge sundae topping
This will last several weeks in the refrigerator. FamilyFun magazine's recipe (www.familyfun.go.com) mixes unsweetened chocolate, butter, water, sugar and corn syrup into a heavenly topping. Butterscotch topping is a good alternative. Package in a nicely decorated jar.
Choosing holiday gifts for family is hard enough, never mind finding personal and affordable ways to wish co-workers, teachers and neighbors the best of the season.
But with a little planning and time in the kitchen, holiday gift-giving need not be a nuisance. And it can be delicious.
For example, a pretty jar of homemade spiced nuts or hot fudge sundae topping come together quickly and for less money than a basket of scented candles or another bottle of wine. There are other benefits, too.
"If you can spend a day at home with your kids cooking in the kitchen, that is a little more meaningful - for the kids and the person who is receiving the gift," says Deanna Cook, director of creative development for FamilyFun magazine.
Making edible gifts work means devising a strategy now, not a week before Christmas.
Experts advise breaking this into two parts: Decide what you're making, then decide how you'll package it. And do both early. You don't want to leave finding hard-to-get ingredients to the last minute. Ditto for packaging.
What to make
Jennifer Aaronson, food editor for Martha Stewart Living Omnimedia Inc., suggests making just one or two items, especially if you are new to giving edible gifts. "Don't try to give 52 different things," she says.
Choose something easily made in large quantities, such as candied bark, dessert toppings or gingerbread cookies.
Aaronson says her husband's specialty is homemade cocktail onions. "He makes a really large batch and divvies it up."
Also, consider foods that will last at least a few weeks, preferably without refrigeration. This is easier for you (no need to rush the gift out or make it at the last minute) and the recipient, who may not want to eat it immediately.
Aaronson loved a simple cinnamon sugar mix she received from a co-worker. The gift tag read, "Have a sweet holiday."
"It was so simple and so cute," she says. Another option would be to present the same gift with a cookie recipe (perhaps even a cookie cutter) that stars the cinnamon sugar mix.
Cook and her daughters, ages 7 and 10, start choosing recipes and making a shopping list of ingredients and packaging options right after Thanksgiving. That allows time to test the recipe and their container choice to make sure both work.
How to package it
When it comes to packaging edible gifts, think beyond the obvious cookie tin or plastic wrap.
"There are so many container options and so many more stationery stores now, you can really go crazy," says Tracey Seaman, test kitchen director for Every Day with Rachael Ray magazine.
Search online or at craft stores, she says, and you'll find loads of paper choices, such as Chinese food containers or seasonal card stock. Cellophane (clear, colored or decorated with holiday images) is another great choice.
When Seaman's crew at the magazine made caramel pretzel turtles for the December/January issue, they presented them in cones made out of heavy card stock. And they would look equally nice bagged in festive cellophane and tied with ribbon.
Another option are the plain white boxes (some have windows in the tops) sold in varying sizes at candy and baking supply stores. Cook likes those because her kids can decorate them with drawings or messages.
Alternatively, Aaronson likes presenting those pastry boxes tied with a combination of ribbon, wide and thin in complementing colors. "It looks quite modern," she says. "And it's simple and inexpensive."
For heavier duty containers, there are any number of glass and plastic options. Spiced nuts look lovely in an old-fashioned canning jar tied with a ribbon.
Seaman has presented homemade nut butter and a loaf of bread together by placing the jarred nut butter inside a hollowed out section of the bread. To serve, the butter can be emptied into the bread hollow and enjoyed together.
"So much of (the gift) is the container," says Cook, who has given pancake and biscuit mixes in fun jars. "Start early and make sure you are able to buy 20 of them."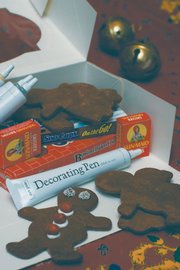 Gingerbread family kit
3 cups all-purpose flour
1/4 teaspoon salt
3/4 teaspoon baking soda
2 teaspoons ground ginger
1 teaspoon cinnamon
1/4 teaspoon nutmeg
1/4 teaspoon ground cloves
1/2 cup unsalted butter, room temperature
1/2 cup sugar
1 large egg
2/3 cup molasses
Candies and tubes of frosting to decorate
In a large bowl, whisk together the flour, salt, baking soda, ginger, cinnamon, nutmeg and cloves. Set aside. In another large bowl, use an electric mixer to cream the butter and sugar until light and fluffy. Add the egg and molasses and beat until well-combined. Gradually add the flour mixture, beating until incorporated. Divide dough into four pieces and wrap each in plastic wrap. Refrigerate at least 2 hours or overnight. When ready to bake, preheat oven to 350 degrees. Line two baking sheets with parchment paper. One at a time, on a lightly floured surface, roll out each piece of dough to 1/4-inch thick. Using cookie cutters of people and pets, cut out gingerbread cookies. Combine scraps and cut additional cookies.
Use a spatula to transfer the cookies to the prepared baking sheet, placing them about an inch apart. Bake 8 to 12 minutes, or until just lightly brown at the edges. Cool cookies on baking sheet for 1 minute, then remove to wire racks to cook completely. Repeat with remaining dough.
To assemble the kit, line a 9-inch square plastic container with tissue paper. Add enough undecorated cookies for each family member receiving the gift. Add candies and string licorice for decorating the cookies and a tube or two of frosting. Start to finish: 3 hours (1 hour active). Makes about twenty 5-inch cookies
- Adapted from the editors of FamilyFun magazine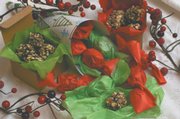 Caramel Pretzel Turtles
14-ounce bag soft caramels (about 48)
10-ounce bag pretzel nuggets
12 ounces dark chocolate, finely chopped
2 cups toasted almonds, finely chopped
Line a baking sheet with waxed or parchment paper. Set aside.
Unwrap the caramels. One at a time, place a caramel between two sheets of parchment paper (not the paper from the baking sheet), then use a rolling pin to roll it into an oval about 1/8 inch thick.
Wrap the flattened caramel around a pretzel nugget, pinching the ends to seal. Set aside on another sheet of parchment paper. Repeat with remaining caramels and pretzel nuggets.
In a double boiler over simmering water or in the microwave, melt half the chocolate, stirring occasionally, until smooth. If using a double boiler, remove the pan from the heat. Add the remaining chocolate and stir until smooth.
Place the almonds in a shallow bowl. One at a time, use a fork to dip each pretzel nugget in the chocolate to coat, tapping off any excess, then dip it in the almonds to coat. Set on the prepared baking sheet and repeat with remaining pretzels.
Let stand until set, about 3 hours, before packaging.Start to finish: 1 hour and 10 minutes. Makes 48 turtles
- Recipe from Every Day with Rachael Ray magazine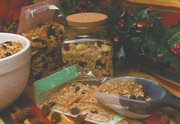 Crunchy Granola
7 cups (1 1/2 pounds) rolled oats, uncooked
1 cup flaked unsweetened coconut (optional)
1 cup wheat germ
1 cup sliced almonds
1 cup diced pecans or walnuts
1 cup sunflower seeds, raw or toasted
1/2 cup vegetable oil
1/2 teaspoon salt
1 cup pure maple syrup
1 tablespoon vanilla extract
5 cups mixed dried fruit (such as raisins, cranberries, cherries, diced pineapple, diced apricots, chopped dates)
Preheat oven to 250 degrees. Lightly coat two rimmed baking sheets with cooking spray.
In a very large bowl, combine the oats, coconut, wheat germ, almonds, pecans and sunflower seeds. Mix well.
In a separate bowl, whisk together the oil, salt, maple syrup and vanilla. Pour over the dry mixture, stirring and tossing until everything is well-combined.
Spread the granola on the prepared baking sheets. Bake for about 90 minutes, stirring the mixture with a heatproof spatula or spoon, every 15 minutes or so. You want to bring the granola at the edge in toward the middle, so it all browns evenly. Reverse the baking sheets in the oven (top to bottom, bottom to top) each time you stir.
When the granola is a light-to-medium golden brown, remove it from the oven and cool completely on the pans.
Transfer the granola to a large bowl and mix in the dried fruit. Package as desired. The granola will keep for several weeks when stored in sealed containers at room temperature. Start to finish: 1 hour 45 minutes (15 minutes active) Makes 18 cups
- Recipe from The King Arthur Flour Company
Copyright 2018 The Associated Press. All rights reserved. This material may not be published, broadcast, rewritten or redistributed. We strive to uphold our values for every story published.