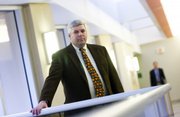 Past Event
Featuring Allegresse and Jesse Henkensiefken and Sibora Miloradovich
When: Sunday, December 23, 2007, 7 p.m.
Where: Lawrence Arts Center, 940 New Hampshire St., Lawrence
Cost: $8 - $25
-->
-->
For people looking to wind down from the holiday bustle or take a shopping break, Steven McDonald, conductor of the Lawrence Chamber Orchestra, suggests attending the Home for the Holidays concert.
The third annual performance and fundraiser will be 2 p.m. Dec. 23 at the Lawrence Arts Center, 940 N.H.
"It's the last shopping Sunday before Christmas, so for folks who have their shopping done, it's a good chance for them to relax and enjoy the music," McDonald said.
McDonald, assistant professor of music and director of orchestral activities at Ottawa University, said the holiday chamber concert offers a different musical flair than the orchestra concerts. Not only will it focus less on holiday music, but McDonald selects local, professional musicians and graduate students from Kansas University and Park University to play in small ensembles or to solo. McDonald is completing his doctorate of musical arts degree at KU.
The Allegresse Trio will be among several small groups playing. The trio is made up of two Kansas University faculty members - Margaret Marco, associate oboe professor, and Ellen Bottorff, piano lecturer - as well as Annie Gnojek, a KU alumna and private flute teacher. The women have been friends for more than 10 years and formed the trio about one year ago, Gnojek said. She often practiced with Bottorff while she was studying flute at KU. Then she selected a piece they could all practice.
"We had such a great time, we decided to stay together," she said. "When you have people you like to play with so much, it's easy to start up."
They recently returned from a Midwest tour. Gnojek said they were excited to perform for the Lawrence community, so far a rare opportunity for them.
"I think it will be fun because there will be such a mix of instrumentation and different groups coming," she said. "It's going to be relaxing. Everything played will be sort of fun to listen to, enjoyable, evokes happy emotions as opposed to serious emotions. It's a way to get ready to relax and enjoy the Christmas holiday."
McDonald said he enjoys the level of ability and talent the musicians bring to the rehearsals.
"It's people who possess a high level of both ability and musicianship," he said. "We can immediately go into details of the music and can rehearse at a higher level."
Terri Chauvin, president of the chamber's board, said the concert's date has changed in recent years. Last year it was Dec. 15. She said having the concert closer to Christmas was more successful because people are in the holiday spirit, and it's a family-friendly atmosphere.
"It's nice and relaxing," she said. "You have all the business behind you - now let's just enjoy the end of the holidays."
Chauvin said she liked the variety of the performers and programs featured each December, too.
"Each has been unique and creative, with different guest artists and instruments in the ensembles from year to year," she said.
Ticket proceeds go to the operation. Chauvin said she would expect between 100 and 150 people to attend, as in years past.
McDonald said fundraising for the orchestra was important.
"A nonprofit organization can only cover a small portion of their sales," he said. "This concert is a very nice way to focus on that. The ticket sales focus on a small portion of operation costs and give people something a little different."
The Lawrence Chamber Orchestra is funded in part by the Kansas Arts Commission, a state agency, the National Endowment for the Arts, a federal agency, individual and business contributions, public and private grants, ticket sales and projects.
The orchestra has three more performances this year.
"Ticket sales are usually just the icing on the cake," McDonald said.
Tickets are available at the door or in advance at the arts center, 940 N.H. The cost is $13 for adults, $10 for senior citizens and $8 for students. The ticket price includes a reception catered by New Hampshire St. Bistro.
New this year, LCO is offering a "family ticket" (two adults and two children) for $25, as well as a season ticket for concerts in October, December and April for $33.
Copyright 2018 The Lawrence Journal-World. All rights reserved. This material may not be published, broadcast, rewritten or redistributed. We strive to uphold our values for every story published.